Taiwan Semiconductor Manufacturing Co. (TSMC) — the world's largest contract chipmaker — plans to raise prices on its most advanced chips by about 10 percent and less advanced chips by about 20 percent, to take effect late this year or in early 2022. The price hike is taking place during a global shortage of semiconductors that already impacts auto companies including General Motors and Toyota Motor, an array of consumer electronics, and major tech companies such as Apple, which uses TSMC chips in its smartphones. GM closed three North American factories and Toyota will slow production by 40 percent in September.
The Wall Street Journal reports that TSMC's price increases will, in the short term, "push down demand and preserve supply for customers who have no other choice," while "over the longer term, the higher income will help TSMC invest aggressively in new capacity."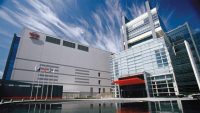 The company, which has plans to spend $100 billion over the next three years on factories, equipment and R&D, is already "expanding its production capacity in Nanjing, China, and has started construction on a $12 billion facility in Arizona."
Chip shortages "have already driven up prices for laptops … [and] TSMC's price increases could eventually filter down to consumers next year unless brand-name companies decide to absorb the higher costs."
According to Sinolink Securities semiconductor analyst Andrew Lu, TSMC over-spent "too much of its huge capital budget on the most advanced chips," and the price hike will preserve its profit margins. "TSMC is finally going to increase their prices to go with the trend, making up for misallocating their capital spending," he said. TSMC typically negotiates its prices in August or September, said a source.
Market intelligence provider TrendForce points out that TSMC "accounts for more than half of the global semiconductor foundry market by revenue … and it makes more than 90 percent of the world's most advanced chips." In the quarter ending in June, the company "reported net profit equivalent to $4.8 billion on net sales of $13.3 billion, with a net profit margin of 36 percent. But, notes WSJ, "its cash flow is typically well below its profit because it plows much of the money it makes back into new factories and equipment."
Bernstein analysts revealed that, "the price increases would likely lift TSMC's revenue by 10  to percent 15 percent and increase earnings by 20 percent to 30 percent, adding that the impact would be seen in the first quarter of next year." Although TSMC usually offered "regular discounts for its big customers," chief executive C.C. Wei stated "in a March letter his company would no longer do that starting at the end of this year."
Tom's Hardware reports that TSMC "intends to increase the price of one wafer processed using its 28nm to nearly $3,000 starting from January." Its N5 and N7 technology accounted for "49 percent of the company's $13.29 billion revenue in the second quarter, so increasing quotes for these nodes by 10 percent will likely bring TSMC well over $600 million of extra revenue in Q1 2022 (assuming that the company's sales will remain on Q2 2021 level)."
Additionally, the company's N16 and N28 processes "accounted for 25 percent of TSMC's revenue in Q2, so increasing their prices will also bring a sizeable sum to the company," with the prediction that revenue could increase by $1+ billion.
Related:
Why Is There a Chip Shortage?, BBC News, 8/27/21
COVID-19 Surge in Malaysia Threatens to Prolong Global Chip Shortage, The Wall Street Journal, 8/29/21
HP, Dell See Swelling Backlogs Amid Hot Demand and Supply Shortages, The Wall Street Journal, 8/26/21
Chip Shortage Hits Radio Technology Marketplace, Radio World, 8/25/21
UK Car Production Plummets to Lowest Level Since 1956 Amid Chip Shortage, Worker Absences, CNBC, 8/26/21
The Car Industry's Chip Shortage Is Far From Over, CNET, 8/27/21
Topics:
Andrew Lu
,
Apple
,
Arizona
,
Automotive
,
Bernstein
,
C.C. Wei
,
China
,
Chip
,
Consumer Electronics
,
COVID-19
,
Dell
,
General Motors
,
GM
,
HP
,
iPhone
,
Laptop
,
Malaysia
,
Manufacturing
,
Mobile
,
Radio
,
Semiconductor
,
Sinolink Securities
,
Smartphone
,
Taiwan
,
Toyota
,
TrendForce
,
TSMC
,
United Kingdom