TikTok has introduced in-app shopping for the first time in a deal with e-commerce platform Shopify. Previously, users could shop on TikTok only by clicking ads. The move is designed to more seamlessly leverage the influencers aggregated on the meme-friendly video service. Participating Shopify merchants can now trick-out their profiles with shopping tabs that link to products like clothing, makeup and household products featured in TikTok content. Shopify is currently piloting the program with merchants including Kylie Jenner and expects to offer the feature to all e-commerce partners this fall.
Instagram and Facebook have also taken the in-app shopping plunge, a pivot to post-propelled marketing known as social commerce. "Social commerce is important because it's the new town square" where consumers go to find and buy new products, Harley Finkelstein, Shopify's president, said in an interview with The New York Times.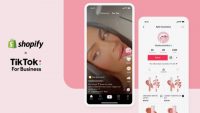 Jenner's Kylie Cosmetics has two million followers on TikTok, marking what TikTok president of global business solutions Blake Chandlee told NYT is a natural integration. Shopify, which touts collaboration with 1.7 million merchants, said sales through social commerce (through channels including TikTok, Facebook, Instagram, Snapchat and Pinterest) grew 76 percent from February 2020 to February 2021.
TikTok amped-up e-commerce efforts last year, offering tools for Shopify merchants to create and manage TikTok marketing campaigns from the Shopify dashboard. It partnered with brands like Levi's on "Shop Now" buttons, while Walmart live-streamed shopping events.
TechCrunch reports the new Shopify initiative — initially focusing on the U.S., UK and Canada — allows Shopify partners with a TikTok For Business account to create mini-storefronts on their profiles, synching their product catalogs. They will be able to tag products in their TikTok videos that link back to Shopify storefronts for checkout. Merchants can request to join the pilot through Shopify's own TikTok channel.
"Creators are paving the way for a new kind of entrepreneurship," Finkelstein said in a statement. "By enabling new in-app shopping experiences and product discovery on TikTok for the first time, Shopify is powering the creator economy on one of the fastest-growing social and entertainment platforms in the world."
TikTok is owned by Beijing-based ByteDance, founded by 38-year-old Zhang Yiming. ByteDance had 2020 revenue of $34.3 billion, up 111 percent year-on-year, with gross profit of $19 billion and an operating loss of $2.1 billion, according to CNBC, which credited figures from the privately held company to statements management reportedly shared with employees at a company-wide meeting.
Shopify, founded in 2004 by Canada-based owner and CEO Tobi Lutke, posted 2020 revenue of $2.9 million, an 86 percent increase over 2019 and operating income of $90.2 million.