South Korea is on the verge of becoming the first country to initiate legislation that would provide consumers with the choice of which app payment provider to use. The Telecommunications Business Act, which is "almost certain" to pass a vote in the assembly, could end the "effective duopoly" of Apple and Google. It would also enable companies like Epic Games to transact directly with users and avoid hefty commissions charged by those two companies. In the U.S., Apple and Google face legislative actions and an Epic Games lawsuit.
Bloomberg notes that, if South Korea passes this law, it will set "a potentially radical precedent for their lucrative app store operations everywhere from India to the U.S." "This could presage similar actions elsewhere," said Omdia analyst Guillermo Escofet.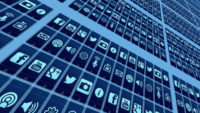 "Regulators, lawmakers and litigators in North America and Europe are also scrutinizing app-store billing rules, and the overriding political mood has become hostile to the enormous amount of power concentrated in the hands of the tech giants." In South Korea, the law is known as the anti-Google law since that company planned in October to introduce its 30 percent commission fee.
The Korea Mobile Internet Business Association reported that, "sales of mobile apps and content were around 7.5 trillion won last year and are projected to increase by 21 percent to 9.1 trillion won this year." Of that, Google "handled about 67 percent … through its Android operating system, Apple did 22 percent across its iPhones and iPads and the rest came via local operator SK Telecom Co.'s One Store."
Amazon, Apple, Facebook and Google are the "new gatekeepers of the digital economy," but in Korea "local players such as Naver Corp. and Kakao Corp. hold sway." Even so, Naver lost its No. 1 spot as the nation's top video service to YouTube and lawmakers "now echo their U.S. counterparts in saying the absence of competition exposes consumers and developers to the whims of the duo."
"The mood has changed over the past couple of years," said Kookmin University business professor Kim Dohyeon, who is also director at Startup Alliance Korea. "The in-app billing system creates a big barrier to entry for startups that are not generating profits." Apple countered that South Korean app developers "have earned more than 8.55 trillion won ($7.3 billion) to date on the App Store."
CNN reports that, once the Telecommunications Business Act is implemented, "violators could be fined up to 3 percent of their annual sales, in addition to up to 300 million Korean won ($257,000) in penalties."
Elsewhere in the world, Australian treasurer Josh Frydenberg wants to see new regulations on digital payments, pointing out that although Apple Pay and Google Pay are used like a bank's debit card, "the parties are subject to different regulatory settings." "If we do nothing to reform the framework, it will be Silicon Valley that determines the future of a critical piece of our economic infrastructure," he said.
CNN notes that "numerous investigations of the app ecosystem are already underway around the world, including in Europe and the United Kingdom."
UPDATE:
Google, Apple Hit by First Law Threatening Dominance Over App-Store Payments, The Wall Street Journal, 8/31/21
Topics:
Amazon
,
Android
,
App Store
,
Apple
,
Apple Pay
,
Apps
,
Epic Games
,
Facebook
,
Google
,
Google Pay
,
Google Play
,
Guillermo Escofet
,
iOS
,
Josh Frydenberg
,
Kakao
,
Kim Dohyeon
,
Kookmin University
,
MOIBA
,
Naver Corporation
,
Omdia
,
One Store
,
SK Telecom
,
South Korea
,
Startup Alliance Korea
,
Telecommunications Business Act
,
YouTube