Small social video app Triller saw an opportunity to grow in July when news of a potential TikTok ban was brewing. Triller's first "get" was the Sway Boys, a group of TikTok influencers who had been mulling over the idea of starting their own app but were convinced to join Triller by its majority owner, entertainment executive Ryan Kavanaugh. He offered them a juicy deal: In exchange for joining, he told them, he'd give them equity and roles within Triller. And they could still post on TikTok, just less frequently.
The New York Times reports that, after accepting the deal, Sway Boy Josh Richards, 18, "was named Triller's chief strategy officer, and Griffin Johnson, 21, and Noah Beck, 19, joined as advisers with equity."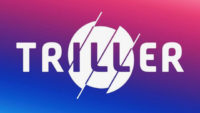 Founded in 2015, Triller promoted itself as an app for making "professional-looking music videos, quickly." This August, "Triller announced it was seeking a new funding round of $250 million, hiking its valuation to over $1 billion." Triller has different editing tools from TikTok; unlike TikTok, its users can't "duet" or react to videos and it doesn't offer that app's "extensive library of sounds and mash-ups."
Triller has already raised money from Snoop Dogg, 21 Savage and Migos, and high-profile users include The Weeknd, Marshmello, Lil Wayne, Young Thug, Kendrick Lamar, Tyga and Jake Paul. According to backers, most importantly, Triller is an American company. Last October, Kavanaugh tweeted, "protect your family and our country do not use #tiktok … take back your data, don't let them destroy the U.S. Music Industry and spy on our children."
The company is also spending money to draw in high-profile creators, with a Mercedes-Benz van painted with the app's name shuttling them to and from a West Hollywood eatery with "black cards loaded with unlimited funds." When TikTok's most-followed star — Charli D'Amelio with 90 million followers — joined Triller, "the company provided her with a leased black Rolls-Royce with a 'TRILLER' vanity plate."
Other TikTok stars have also gotten the luxury treatment, with rented mansions, sushi dinners and expensive vehicles as well as cash payments.
Not all TikTok stars were lured by the swag, and some found the app frustrating to navigate, while "questions have also come up about the accuracy of Triller's reported metrics." NYT reports that, "in August, Triller threatened to sue Apptopia, a third-party app analytics company, for providing estimates of Triller's app downloads that were vastly lower than the company's publicly reported numbers … [and] last week, six former Triller employees spoke to Business Insider claiming that the company 'reported monthly active users that were five times higher than what some internal metrics showed'."
Triller also has yet to prove that it can "launch the careers of influencers." President Donald Trump and his social media team have published videos and ran a rap contest dubbed the #MAGAChallenge. Triller has also allowed "hashtags and pages associated with conspiracy theories like QAnon and Pizzagate." "Our view," is if it's not illegal, if it's not unethical, it doesn't harm a group, and it's not against our terms of service, we're not going to filter or ban it," said Kavanaugh.
Topics:
21 Savage
,
Apps
,
Apptopia
,
Business Insider
,
Charli D'Amelio
,
Donald Trump
,
Griffin Johnson
,
Jake Paul
,
Josh RIchards
,
Kendrick Lamar
,
Lil Wayne
,
Marshmello
,
Metrics
,
Migos
,
Music Videos
,
Noah Beck
,
Pizzagate
,
QAnon
,
Ryan Kavanaugh
,
Snoop Dogg
,
Social Media
,
Sway Boys
,
The Weeknd
,
TikTok
,
Triller
,
Tyga
,
Video
,
Young Thug