More U.S. adults say they regularly get news from TikTok, according to a Pew Research study that says this bucks the general trend of news consumption declining or remaining flat at other social media sites over the past few years. Since 2020, regular TikTok news consumption among American adults has more than quadrupled to 14 percent, from 3 percent, Pew finds. Among younger adults, news consumption is even higher, with 32 percent of those ages 18 to 29 claiming to regularly get news on TikTok. This compares with 15 percent of those 30 to 49.
Although TikTok is growing among U.S. adults, it still lags behind X and Facebook among all users, and remains behind Instagram, YouTube and Facebook among adults, according to Pew Research.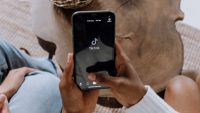 "Users of X and Facebook are more likely to regularly get their news from those sites than users of TikTok, but the number of users who rely on them for news has declined since 2020, falling from 54 percent in 2020 to 43 percent this year for Facebook and 59 percent to 53 percent for X, according to Pew," Forbes reports.
"People are making very conscious choices in the social media they turn to, many times based on their identity," Pew Research Center Director of News and Information Research Katerina Eva Matsa told The Washington Post.
The Pew study, released Wednesday, reveals that "half of Americans sometimes get their news from social media, and vastly more people get it on their digital devices than from television, radios or printed publications," WaPo reports.
When Americans want news, their phone is likely to be the go-to source, Pew says, describing news websites and apps as the prevalent options. Search follows closely with social media and podcasts, also popular news sources on mobile devices.
"Women make up a greater portion of regular news consumers on Nextdoor, Facebook, Instagram and TikTok, while men are more likely to opt for platforms like Reddit, X and YouTube," Axios reports, adding that "as big social media platforms move away from supporting news links" due to publisher demands for payment "headlines and content, users seeking news content may be leaning more heavily on search engines, traditional news sites or aggregation apps."
Despite TikTok's rising popularity as a news source, "the kind of news content favored by platforms like TikTok, which is all short-form video and typically user-generated, may get penalized by Google and other search engines," Axios writes. "Google has long relied on a complex algorithm to prioritize content that the company views as authoritative, credible and trustworthy" and "the more Google offers search results via conversational AI, the more likely it is to get even pickier about choosing sources."
Related:
Nepal Bans TikTok Citing Disruption to Social Harmony, BBC, 11/14/23