TikTok had its first official presence at the Cannes Lions Festival of Creativity on the French Riviera, where the ByteDance mobile video platform competed with the likes of Amazon, Netflix, Activision Blizzard, Spotify, Reddit and Meta Platforms for the attention of the world's biggest brands and top advertising agencies. Touting its viral appeal and popularity among key demographics including Gen Z, millennials and social influencers, the company hosted a cabana on the beach with dedicated space to make TikTok videos, held meetings in a nearby suite and participated onstage at the Palais des Festivals.
TikTok president of global business solutions Blake Chandlee told festival attendees the platform has hundreds of thousands of advertisers, but wants millions, according to Search Engine Journal, which said "it plans to achieve this by adding new tools to the platform and implementing a program developed in-house that will report on the quality of ads," and also plans "more contextual targeting."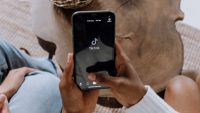 The Wall Street Journal reports "TikTok is projected to generate as much as $12 billion in advertising revenue this year, triple the amount seen in 2021." Noting that is "three times the ad revenue of Snapchat," WSJ says it is but "a fraction of Meta, the parent of Facebook and Instagram."
The digital ad business "remains dominated by Google and Meta," which in 2022 are expected to account for a combined 50 percent of the world's digital ad revenue, per Insider Intelligence. "TikTok, meanwhile, is projected to have 1.9 percent of the market" and "is looking to attract more small and midsize companies, which are critical for Meta's success," WSJ writes.
Reporting from Cannes on "the disconnect between hanging out with celebrities on yachts and the creeping feeling that a recession is around the corner," CNBC writes that "Chandlee said he's heard there's been about a 2 percent to 6 percent contraction in advertising spend so far," but that so far TikTok "hasn't seen it."
Ironically, TikTok recently extended the length of its allowed videos to 10-minutes as a concession to advertisers while Meta's Facebook and Google's YouTube focus on shorter formats and otherwise adapt to the Chinese-owned firm's success.
Last week, CNBC quoted Chandlee as distancing his company from Facebook by claiming they're a social media company and TikTok is not. "They've built all their algorithms based on the social graph," he said. "That is their core competency. We are an entertainment platform. The difference is significant."
Meanwhile, the platform appears to be addressing issues of quality control and brand safety that have raised concerns among advertisers and regulators. The European Union announced Tuesday that it had resolved a long-running battle after TikTok made a "series of commitments to improve user reporting and disclosure requirements around ads/sponsored content; and also to boost transparency around its digital coins and virtual gifts," per TechCrunch.
"Thanks to our dialogue, consumers will be able to spot all kinds of advertisement that they are exposed to when using this platform," EU commissioner for justice Didier Reynders said in a statement.
Related:
TikTok Reveals Platform Strategy at Cannes, AdAge, 6/21/22
TikTok Turns On the Money Machine, Bloomberg, 6/23/22
Topics:
Activision Blizzard
,
Advertising
,
Amazon
,
Apps
,
Blake Chandlee
,
Brands
,
ByteDance
,
Cannes Lions
,
China
,
Didier Reynders
,
European Union
,
Facebook
,
France
,
Gen Z
,
Google
,
Influencers
,
Insider Intelligence
,
Instagram
,
Meta Platforms
,
Millennials
,
Mobile
,
Netflix
,
Reddit
,
Short-Form Video
,
Snapchat
,
Social Media
,
Spotify
,
TikTok
,
Video