The entertainment industry has traditionally piggybacked on primary development in other sectors to fuel our own innovative adoption of practical and compelling technologies. History shows that we consistently benefit from numerous advances across industries for reuse or adaption in our key areas ranging from internal communication all the way to distribution of content. As we start compiling our wish lists for emerging standout technologies to be featured at CES 2022 (returning to Las Vegas January 5-8), we anticipate that an expanded computational sophistication of consumer devices will be in the cards.
Software skeletal joint studies became the start of figure animation and motion capture. A steady advance in the density and dynamic range of panels currently fuels advances in virtual production of all scale and stages. Bottom-up development of consumer level products might soon become an increasingly fertile area of tech harvesting. AI applied in physical solutions is poised to run ahead in areas we initially might have assumed would flow downstream from traditional sources.
Just a spattering of new products recently points to the outsized effect of machine learning with a consumer value proposition that will eventually be of great interest. Computational photography at its current level of accomplishment is magic in the consumer space. The Cinematic mode on the new iPhone 13 series, for example, points to what might be possible if we rethink these ideas as automated camera mount systems did just a decade ago.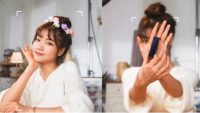 Developing good mattes is another area that a consumer company is approaching with machine learning in the OBSBOT Meet 4K webcam. The clever device produces a superior simulated shallow depth-of-field effect or a background replacement completely in-camera (auto-focus feature illustrated above). This first product introduction of camera-centered identifying the human in the image is AI-based in its detection.
Conversion of consumer phones to high-quality cameras is another area that warrants attention as smartphones gain new photographic capabilities. R&D in such emerging tech is largely driven by the demand for more professional-looking images by an increasingly visual-literate society. One recent example is Fjorden, which promises to "turn your iPhone into a professional compact camera" and recently raised more than $500,000 on Kickstarter.
Fjorden's case and quick-mount control module (above) serve to convert an iPhone into a slim DSLR-like tool that still fits in a pocket. It adds traditional shutter, zoom lever and programable buttons for select camera apps.
Software like that offered by iOS camera app Focos "brings DSLR-like photography to your iPhone with big aperture and real bokeh effect." The app enables depth map-based post level control of images, capable of effective physical-based relighting in a 3D space and the ability to refocus after shooting. This points to the wider space for innovation that has occurred as independent developers have also gained new sources of funding and audience.
For a creator or one-man band, these tools are getting close to a prosumer level solution that features a range of near professional capabilities of capture, cinematic art, instant production and delivery.
We're hoping to see more in this space during CES 2022. ETCentric will be reporting daily so be sure to check back with us in January.
Topics:
3D
,
4K
,
Animation
,
App
,
Artificial Intelligence
,
Camera
,
CES
,
CES 2022
,
Developer
,
DSLR
,
Fjorden
,
Focos
,
Image
,
iOS
,
iPhone
,
iPhone 13
,
Kickstarter
,
Las Vegas
,
Machine Learning
,
Mattes
,
Mobile
,
OBSBOT
,
OBSBOT Meet
,
Photo
,
Photography
,
Production
,
R&D
,
Smartphone
,
Virtual Production
,
Webcam