Unit sales of the best-selling tablet, Apple's iPad, fell again for the second straight quarter, leaving some industry analysts wondering whether the tablet can survive in a world of bigger smartphones and smaller laptops. Microsoft and Samsung are also both losing money on their tablet devices, but cheaper Android tablets produced by smaller companies may be taking away some of the tech giants' business. Still, many consumers do not see tablets as a must-have gadget.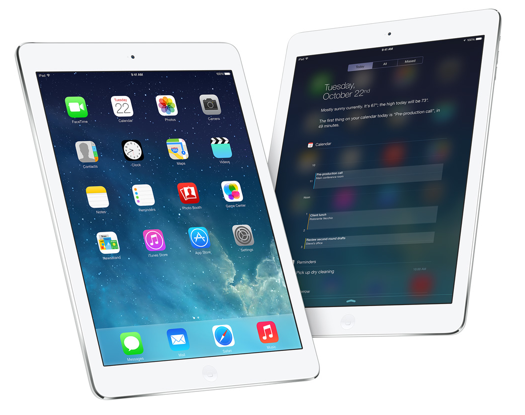 Revenue for Apple's iPad has fallen in four of the last five quarters.
Tablets perform many of the same functions as a smartphone, and as smartphone screens get bigger, the tablet becomes less relevant. For example, Apple's upcoming iPhones will have screens measuring 4.7 inches and 5.5 inches diagonally. In comparison, the iPad mini has a 7.9 inch diagonal screen.
However, despite falling sales, Apple remains optimistic about the future of iPads and iPad minis due to a high rate of customer satisfaction and usage rates for Web browsing and e-commerce.
The CE business is feeling the squeeze from lackluster tablet sales. Research firm IDC said sluggish demands and "additional market challenges" were to blame for the lowered estimate of global tablet shipments this year. Samsung is expecting profit to decline 24 percent from last year because consumers will be looking to upgrade their smartphones, not buy new tablets. Microsoft also announced that it was abandoning its plans to develop a smaller version of its Surface tablet.
The problem is that the market for tablets is getting saturated. "Those that are going to be interested in buying a tablet in the U.S. by this point already have," Jeff Orr of analysis firm ABI Research, told The Wall Street Journal.
According to an online survey by Techanalysis Research, tablets were used in just 11 percent of respondents' time on their various devices. Meanwhile, people spend 37 percent of their time on PCs and 26 percent of their time on their smartphones.
The survey also found that most people want to buy large smartphones in the next 12 months. Tablets ranked behind many other products including notebook PCs, desktop PCs, and TVs for the most likely purchase in the next year.
Currently, PCs are still the standard-issue devices to employees in the corporate sector. However, Apple is trying to change that by partnering with International Business Machines (IBM) to create more opportunities for businesses to use the tablet. The two companies will develop more than 100 apps for industries such as retail, healthcare, banking, telecommunications, travel and transportation. IBM will also sell iPads to its customers.
Related Stories:
Apple: Strong iPhone and Declining iPad Sales, iWatch Rumors, ETCentric, 7/23/14
Apple and IBM Tackle Mobile Enterprise with Exclusive Venture, ETCentric, 7/17/14
Topics:
Android
,
App
,
Apple
,
Banking
,
Customer Satisfaction
,
Decline
,
E-Commerce
,
Forecast
,
Healthcare
,
IBM
,
IDC
,
iPad
,
iPad mini
,
Jeff Orr
,
Laptop
,
Microsoft
,
Mobile
,
PC
,
Purchase
,
Retail
,
Revenue
,
Samsung
,
Screen Size
,
Smartphone
,
Surface
,
Survey
,
Tablet
,
Techanalysis Research
,
Telecommunications
,
Transportation
,
Travel
,
Trend
,
Web Browsing