Target announced it will enter the Internet video business with a new service that will offer customers the ability to purchase or rent TV shows and movies. The Target Ticket service already has approximately 30,000 movie and TV titles available. Although the retailer is entering the digital video market a bit late in the game, the company is betting that Target Ticket will stand out due to its simplicity, parental controls, and access to next-day TV episodes.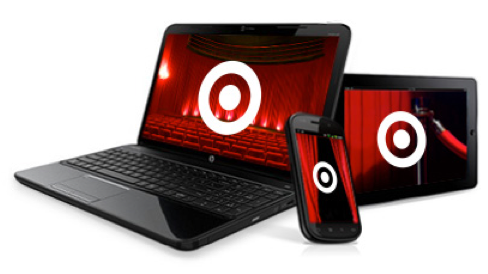 "Rivals like Walmart and Best Buy already offer digital-video services, while Internet companies Apple and Amazon.com have well-established footholds in the space," reports Variety. "But about half of Target's customer base has never downloaded or streamed video entertainment."
"The industry is not brand-new at this stage, but there is a significant portion of our guests who haven't adopted digital entertainment yet," said Anne Stanchfield, Target's divisional merchandise manager of entertainment.
The public launch date for Target Ticket is October 1, but it could be earlier.
Target currently has deals with studios such as Disney, Paramount, Sony Pictures Entertainment, 20th Century Fox, Warner Bros., Universal and Lionsgate. They also have deals with networks including ABC, AMC, CBS, CW, Fox, FX, HBO, The WB, Nickelodeon, MTV, Comedy Central, NBC, Showtime, Starz and USA Network. Although TV content is only available for purchase, it can be streamed or downloaded.
"A differentiator for Target Ticket will be access to early EST, including day-after-broadcast TV episodes and movies before they are available on DVD," explains the article. "The service is compatible with UltraViolet, the digital-locker system created by Hollywood studios, to let Target Ticket customers import movies they have already bought from their UltraViolet account."
Stanchfield said that Target's goal is to provide a service that is easier and more family friendly.
Target Ticket users can stream or download video to PCs, Macs, Microsoft Xbox consoles, Apple iOS and Android devices, Roku set-tops and Samsung connected-TV devices.
Target Ticket pricing is similar to that of other services. Additionally, new Target Ticket customers will receive 10 free movie downloads when they sign up, and customers with Target's Redcard credit and debit cards will benefit from 5 percent off of all purchases.
"For parental controls, Target is working with Common Sense Media, a not-for-profit org that rates movies and TV shows. The Target Ticket service allows users to create up to 20 profiles, restricted based on various criteria," notes Variety.
Although Target considered a subscription style service like Netflix, customers have requested the newest content, namely, content in the EST window, which is not available in subscription services. It would also be more expensive for Target to create a subscription style service.
"The service is hosted at its own website, TargetTicket.com, but will be integrated with Target.com to link to Target Ticket if content users search for is available there," explains Variety. "This summer, Target kicked off a beta test with about 10,000 employees based at the company's Minneapolis headquarters, after beginning work earlier this year on the service with technology and content partners."
Topics:
Amazon
,
Android
,
Apple
,
Best Buy
,
Disney
,
Distribution
,
Download
,
DVD
,
Entertainment
,
EST
,
Film
,
FOX
,
iOS
,
Lionsgate
,
Movie Studios
,
Movies
,
Netflix
,
Paramount
,
REDcard
,
Retail
,
Roku
,
Samsung
,
Sony
,
Stanchfield
,
Stream
,
Streaming
,
Target
,
Target Ticket
,
Television
,
TV
,
TV Networks
,
UltraViolet
,
Universal
,
Video
,
Walmart
,
Warner
,
Xbox