According to the Blu-ray Disc Association, the announcement of a next-generation Blu-ray Disc compatible with Ultra HD is imminent, putting to rest concerns of a potential 4K format war. During the IFA conference in Berlin, Marty Gordon, VP for Alliances & Communications at Philips and spokesman for the BDA, said that an announcement regarding an enhanced Blu-ray format involving a traditional-looking disc is expected in the near future.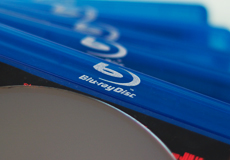 "The BDA's task force has been working feverishly and we expect an announcement soon — I hope this year," explained Gordon.
"It will be an optical disc, but I can't comment on any of the specs," he said, adding that the 300GB format Panasonic and Sony are reportedly developing is separate from Blu-ray and not part of the same initiative.
Recently there has been speculation regarding an impending 4K format war, similar to what played out with VHS v. Betamax and Blu-ray v. HD DVD.
"We don't see any war, we don't see that happening with the next generation of Blu-ray," Gordon told TechRadar. "Standardization is the exact reason why the BDA exists. It only reinforces the importance of working in a task force so we can take everyone's opinions into account and really fully vet the technology."
"The chances of a new-and-improved Blu-ray Disc format grew at IFA 2013 with the announcement of a new HDMI 2.0 format by the HDMI Forum," reports TechRadar. "The new spec supports all 4K resolutions at 60 frames-per-second, up from 30fps and 24fps for 3840×2160 and 4096×2160, respectively. Both Panasonic and Sony also unveiled Ultra HD TVs that use HDMI 2.0-specified inputs."
While the BDA has yet to officially announce specifics regarding the next-gen Blu-ray, German disc maker Singulus revealed it has created a new replication line "for the manufacturing of triple-layer Blu-ray Discs with a storage capacity of 100GB… just in time for the market introduction of the new ultra-high definition television technology."
"While the trickle of 4K televisions coming to the market at the moment are still very expensive, it's great to see the problem of getting 4K into homes being addressed," notes TechRadar in a related article. "Blu-ray won't be the only way to get content, however, with the Sony Video Unlimited 4K service and Netflix demoing 4K content, streaming will also be another way."
Related News:
Philips Announces First 4K UHD TVs, the 9000 Series, CNET, 9/5/13
Panasonic Unveils 4K TV with HDMI 2.0, T3, 9/6/13
Smartwatches, Bed-Cleaning Robots, 4K TVs, and Other New Tech from IFA Berlin, Wired, 9/10/13
The Best OLED and 4K Televisions Launched at IFA 2013, Gizbot, 9/7/13