Legendary musician Neil Young, the featured speaker on the eve of South by Southwest Music, introduced PonoMusic, his new high resolution audio ecosystem, to a capacity crowd in Austin, Texas. Only four hours earlier, he launched a Kickstarter crowdfunding campaign, which raised more than 50 percent of its fundraising goal before he appeared onstage. The mission of PonoMusic is to bring the highest-quality music to discerning consumers who want to experience music the way the artists intended.
In every other industry technology has improved and quality has gotten better, Young told the audience, citing photography, movies and HD television as examples where digital technologies have driven quality improvements. "While everything else went up, music went to the bottom," he said.
He chronicled a 20-year decline as the flexibility of digital recording also enabled compression. The result is a standard, the MP3, that produces only 5 percent of the quality that actually goes into recordings. "It's like selling Xeroxes of the Mona Lisa," Young suggested.
The iconic artist articulated a very personal perspective going back to his first sessions with The Buffalo Springfield and the "meat locker" at the storied Gold Star Studios. "Time was," he said, "music had soul." In his view, children today grow up hearing rhythms and melodies, but are no longer touched by the soul of music. "Instead of being soulful it got cool — it is beat heavy and clever," he added.
"The lowering of standards not only deprived music of its soul but it cost people jobs," he said, recalling the musicians, arrangers, engineers, producers, and all of the supporting people and companies whose services were no longer required when only a small fraction of their efforts could be heard. "They are the real collateral damage of the MP3 as a vibrant creative culture went away."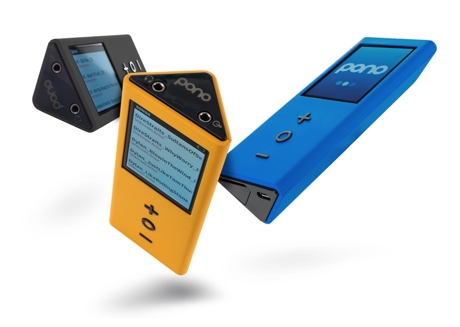 Young is determined to provide both artists and listeners with a choice. He developed Pono as a download service and portable playback system to enable music to be heard the way the artists who create it intended. It works much like iTunes, only the file formats can be delivered at up to 192.66. The Pono Player is a portable, high-resolution, digital music player developed with technology partner Ayre Acoustics of Boulder, Colorado.
While the audience was enthusiastic and appreciative of what PonoMusic's own press release calls "a revolutionary movement," Gizmodo took a decidedly negative view, dismissing "high resolution audio" as a marketing term and writing that the prescription of 192.66/24bit over 44.1/16bit audio has no scientific basis. Scientific or not, Young speaks of feeling and emotion.
The debate is sure to continue as several consumer electronics manufacturers and audio companies focus attention on audio designed to match the higher fidelity images now available. This includes Sony's new line of high resolution audio devices, a push by DTS for a vertical sound component and their new object-oriented audio distribution system that enables sounds to be placed precisely within the specific configuration of a room and its speaker array, and the Dolby Atmos in-theater system with ceiling speakers.
"The PonoPlayer has 128GB of memory and can store from about 100 to 500 high-resolution digital music albums, depending on the resolution and length of the original recording," notes the press release. "The PonoPlayer will be sold at PonoMusic.com for $399 MSRP and is available for pre-order at a discounted price on Kickstarter.com as of March 15th."
Related Stories:
Neil Young Recruits Bruce Springsteen, Dave Grohl for Pono Kickstarter, Rolling Stone, 3/11/14
Neil Young's PonoMusic Hits Kickstarter, CNET, 3/11/14
Topics:
Acoustics
,
Arranger
,
Atmos
,
Audio
,
Austin
,
Ayre
,
Campaign
,
Compression
,
Conference
,
Crowdfund
,
Dolby
,
Download
,
DTS
,
Engineer
,
Festival
,
Fidelity
,
Film
,
Format
,
Gold Star
,
HD
,
iTunes
,
Kickstarter
,
Legend
,
Marketing
,
Movie
,
MP3
,
Music
,
Musician
,
Photography
,
Playback
,
Player
,
Pono
,
PonoMusic
,
Producer
,
Quality
,
Record
,
Song
,
Sony
,
Southwest
,
SXSW
,
System
,
Television
,
Texas
,
TV
,
Young