Binge-watching television shows is becoming a less shameful activity, according to a March survey of TiVo users. While 53 percent of respondents in 2013 characterized the activity in a negative light, only 30 percent of recent respondents felt the same. "People who are binge-viewing are feeling better about themselves," said Jonathan Steuer, chief research officer for TiVo. Interestingly, 92 percent of respondents indicated that they have engaged in binge-viewing at some point, and 32 percent said they often wait to watch an entire season at once.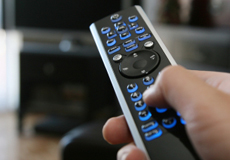 Additionally, 39 percent of those surveyed said they enjoy watching some shows more when viewed back-to-back, and 45 percent binge-watch episodes they missed after discovering a new show.
"An earlier study commissioned by Netflix in late 2013 found that 61 percent of those who watch TV shows online binge-watch 2-3 episodes at least every few weeks — and 73 percent said they have 'positive feelings' about the habit," reports Variety.
"However, on TiVo's most recent survey, only 16 percent of respondents said they viewed bingeing as 'positive' (compared with 11 percent in 2013)."
According to the TiVo survey, the most-binged TV series included "House of Cards," "Unbreakable Kimmy Schmidt," "Breaking Bad," "The Walking Dead" and "Game of Thrones."