Sprint is bulking up with an enhanced LTE, promising "unprecedented speeds" for its mobile subscribers. The company announced the new 4G service Spark this week, as well as two new LTE networks, which offer a vast improvement upon current speeds. In a lab test, Sprint showed off an LTE link with 1Gbps, promising speeds would continue to go up. With multiple antennas and carrier aggregation, it's using a full spectrum of frequencies that average 50 to 60Mbps.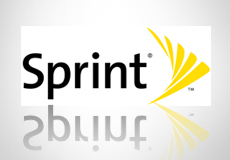 GigaOM says Sprint is using a version of LTE that no other U.S. carrier uses, running on "a spectrum band most radio network engineers consider atrocious for widespread and indoor coverage." It's a 2.5GHz time-division LTE by Clearwater created in 2011. But, GigaOM says, Sprint makes up for the LTE's quirks just with the number of frequencies it uses.
According to the article, Sprint has more than 100MHz of 2.5GHz in most cities, though it doesn't use all of its bandwidth for LTE. The two new LTE Spark networks use 10MHz each, and Sprint claims the 1Gbps speeds could increase to as much as 2Gbps.
Sprint claims these changes will enhance video and apps that require a lot of bandwidth and says, "it's ready to take on virtual reality and 'futuristic apps,'" according to Engadget.
This could be a step in the right direction for Sprint, which lost 360,000 customers in the most recent quarter. But GigaOM looks forward to seeing the company make good on its promise of a large powerful network, saying if they can truly reach the speeds they're touting, "it will most certainly take the speed crown away from AT&T."
For now, these new LTE networks are only available in New York, Los Angeles, Tampa, Miami, and Chicago, but new networks are expected to reach more than 100 million people by the end of next year.