Spotify is adding a new tool called Showcase that lets artists promote their work in the app's homepage feed. Showcase "appears as a mobile banner at the top of Spotify's Home — the most visited place on Spotify, where millions of listeners come to decide what to listen to, resulting in billions of streams each day," the streamer says, adding that "people who see a Showcase are 6x more likely to stream the promoted release." The banners will carry labels indicating a recommendation is sponsored. The company is also launching a marketing tool called Songwriter Promo Cards to assist with discovery.
"Artists can select a song or an entire album to appear as a mobile banner, which can be set to target a specific type of listener from 30 markets at launch," writes The Verge, which got a sneak peek at Stream On earlier this year. U.S. artists who have racked up at least 1,000 streams in the past 28 days will see Showcase pop up in the Campaigns tab of Spotify for Artists.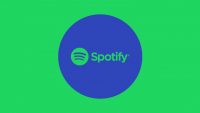 In a bog post, Spotify urges artists to tap Showcase to promote upcoming music, "make a splash when you're dropping new music," or as a way to "extend your promotional cycle once the launch moment has died down," among other uses.
While Showcase "has an upside for artists, the jury is out on how users will react to promoted content on an increasingly packed home screen," The Verge concludes, noting that "artists will be able to tap into prime real estate, reaching users when they first open the app. But the downside for users is they'll see what are effectively ads right on their home screen — albeit ones theoretically targeted to them."
Showcase will provide artists with a detailed breakdown of each campaign, with metrics on how it performed with engaged fans versus new listeners. "Budgets for Showcase start at $100 and are priced on a CPC — or 'cost per click' — basis," The Verge reports, adding that, "in other words, Spotify will charge artists for each user based on a budget they can specify."
Spotify has also launched another marketing tool called Songwriter Promo Cards, which helps songs get discovered "by new listeners and potential collaborators," according to TechCrunch. The Songwriter Promo Cards are social media assets that songwriters customize by visiting promocards.byspotify.com.
A login is not required, so even fans can use the feature to celebrate their favorite acts. TechCrunch says that "in addition to new promo cards, Spotify also said that each Songwriter Page will now feature a new 'Written By' playlist so listeners can easily discover all the songs that someone has written."