Spotify is acquiring Soundwave and Cord Project, two small startups founded in the last few years and known for their design abilities. Soundwave is a social tool for finding, sharing, and talking about music, and Cord Project is an audio-first messaging app for Android, iOS, and the Apple Watch, with a tap-and-talk voice messaging system. Although Cord might seem to be a puzzling fit for Spotify, its founders Thomas Gayno and Jeff Baxter have launched other companies that focus around providing "an audio experience."
Wired details Gayno and Baxter's other creations: Chhirp, a simple button for uploading 12-second audio clips to Twitter, and Shhout, which lets users activate a microphone and send a message to followers just by flipping the phone upside down. The duo were also interested in changing how we listen to audio, a focus they hold in common with Spotify.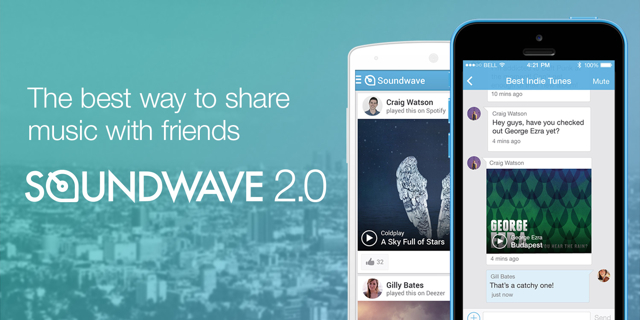 "For years, we've been listening to music on phones and on laptops kind of the way we listen to music on our HiFi stereo, by just looking for a song and hitting play," said Gayno.
That's something Spotify wants to change, already experimenting with features like Running, Party and the new Behind the Lyrics. "Spotify has a ridiculous trove of data about much more than just music," notes Wired, and the Cord team is the basis of a new team searching for ways to turn that data into "entirely new kinds of auditory experiences," by leveraging technology ("accelerometer, the geo-localization and social network data") on the MacBook Pro, iPhone and other digital devices. Music is the first goal, says Gayno, but the long-term plan includes podcasts, news and even video.
Apple, meanwhile, focused on improving the experience of creating music, debuted two software initiatives, says Wired. A tweek to GarageBand focuses on loop-based song creation. More significant is Music Memo, which Apple created in response to a trend among musicians to use its existing Voice Memo to create and collaborate on songwriting.
As Taylor Swift makes clear in "I Wish You Would (Voice Memo)," Voice Memo is frequently used by musicians; Wolfmother, REM, Charlie Puth, Grouplove, My Morning Jacket, TV On The Radio, and others use the app as part of their creative process. Although Music Memo isn't pre-installed on the iPhone like Voice Memo, Apple hopes musicians will embrace it because it's a better tool than Voice Memo, with uncompressed audio for superior sound quality, the ability to attach lyrics, and its easy-to-use single button.
Topics:
Android
,
Apple
,
Apple Watch
,
Audio
,
Charlie Puth
,
Chhirp
,
Cord Project
,
GarageBand
,
Grouplove
,
iOS
,
iPhone
,
Jeff Baxter
,
MacBook Pro
,
Messaging
,
Music
,
Music Memo
,
My Morning Jacket
,
Podcasts
,
REM
,
Shhout
,
Smartphone
,
Social Media
,
Soundwave
,
Spotify
,
Taylor Swift
,
Thomas Gayno
,
TV on the Radio
,
Twitter
,
Voice Memo
,
Voice Messaging
,
Wolfmother