Sony's PlayStation Vue, which recently added ESPN, is offering OTT service throughout the U.S., although most markets still won't get live local TV programs. The national OTT offering competes head-on with Dish Networks's Sling TV, priced at $20+ per month, and AT&T's DirecTV pay-TV packages, slated to launch in Q4 2016. PlayStation Vue's Slim packages, which start at $30 per month and are on offer in 203 U.S. markets, provide on-demand access to ABC, NBC and Fox primetime content, with CBS on board later in some markets.
Variety reports that the "full PlayStation Vue" service, which includes local TV stations, is only available in New York, Los Angeles, Chicago, Philadelphia, Dallas, San Francisco and Miami.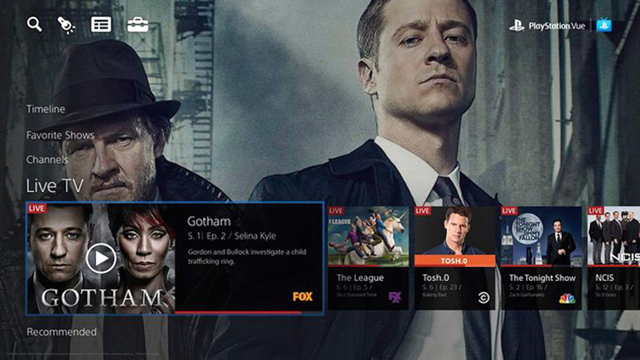 "We were intent on bringing this valuable service to broader reach as quickly as possible," said PlayStation Vue head Dwayne Benefield, for Sony Network Entertainment International. "With the assortment of channels we have now, we feel we are strong alternative to current pay-TV providers and new entrants."
The tiered plans are Access Slim, which offers 55 channels including live cable TV, movies and sports channels, for $29.99 per month; Core Slim with 70 channels, adding live national and regional sports networks from Fox and Comcast, for $34.99 per month; and Elite Slim featuring all those channels plus top movie and entertainment channels, for $44.99 per month.
Networks include AMC Networks, CBS, Discovery Communications, Disney/ABC Television Group, ESPN, Fox, NBCUniversal, Scripps Networks Interactive, Turner Broadcasting and Viacom, as well as Showtime, Machinima and Fox Soccer Plus as a la carte channels.
Sony's national TV service, says Variety, "provides the same features as the regular PlayStation Vue," which includes a so-called cloud DVR for "thousands of hours of programming… 10 times the storage of any DVR in the market today, according to the company" as well as five simultaneous streams.
Benefield reports that PlayStation Vue users "watch more than five hours of TV and video per day, which tops the average television consumption in the 18-34 demo," and denies that millennials prefer skinny bundles.
Sony hasn't disclosed how many subscribers it's signed up. PlayStation Vue can be accessed via PlayStation 4, PS3, Amazon Fire TV and Fire TV Stick, and, via the mobile app, iPad and iPhone, as well as Google Chromecast via compatible iOS devices.
Topics:
ABC
,
Access Slim
,
AMC
,
AT&T
,
CBS
,
Cloud DVR
,
Comcast
,
Core Slim
,
DirecTV
,
Discovery
,
Dish Network
,
Disney/ABC Television Group
,
Dwayne Benefield
,
Elite Slim
,
ESPN
,
FOX
,
Fox Soccer Plus
,
Local TV
,
Machinima
,
Movies
,
NBC
,
OTT
,
PlayStation Vue
,
Primetime
,
Scripps Networks Interactive
,
Showtime
,
Sling TV
,
Sony
,
Sports
,
Television
,
Turner Broadcasting
,
Viacom