During the Sony keynote at CES, CEO Kazuo Hirai announced that the PlayStation 4 console system — which he suggests, "sets the benchmark in collaboration, artistry, imagery and design" — sold more than 5.7 million units over the holidays for a total of 35.9 million units since the console's launch. PlayStation VR goggles will ship the first half of 2016, reportedly in the $300 range. Sony Electronics president and COO Mike Fasulo took the stage to announce "Ultra," the company's new video app that enables users to purchase and stream 4K movies on Sony's Android TVs. Sony also unveiled a range of new cameras, 4K TVs, audio products and more.
The company unveiled a new 4K Handycam, an ultra slim 4K TV with HDR support, a high-res audio turntable, an array of additional audio products — from portable speakers to wireless headphones, and a collection of Life Space UX smart home products.
Fasulo said the turntable, "brings the emotional connection and novelty of vinyl to the traditional digital file." While on one hand it is a standard record player, the system also transfers music from vinyl to a hi-res format.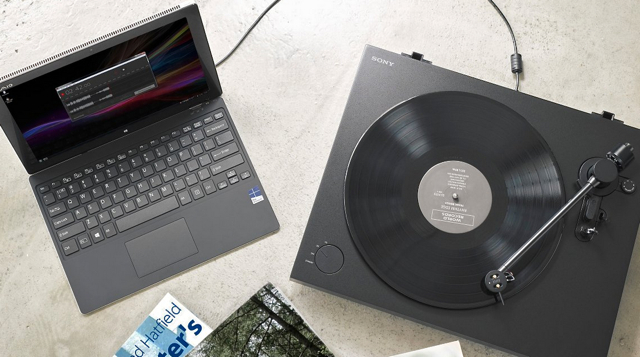 According to Sony, "Just hook up the PS-HX500 turntable to your PC via USB, play a record, and capture every aspect of the vinyl with DSD 5.6 MHz native conversion."
As a segue into introducing the FDR-AX53 4K Handycam, reports Variety, "Fasulo noted that YouTubers now make millions of dollars using their cameras to put videos on the Web."
"Two years ago I said, 4K for the price of 2K. Last year, I said 4K for 1K," explained Fasulo, without specifying a price for the camera (Pocket-lint says it will run $999). "This year I say, 4K for everyone."
"I know it's weak, but that's all I have," he added, which drew laughter from the CES audiuence.
While competitors Panasonic and Samsung touted their upcoming Ultra HD Blu-ray players at CES, Sony opted to introduce its new 4K on-demand streaming service that is exclusive to Ultra HD Bravia TVs.
"Sony didn't provide a launch date for 'Ultra,' or any information about what the 4K titles would cost," HD Report explains. "But if the prices of renting or purchasing 4K titles from Sony's Video Unlimited service are any indication, rentals would be about $7.99 and purchases $29.99 each."
With Ultra however, titles will be available for streaming "from a Sony cloud server, not restricted to downloading as they are with Video Unlimited."
Virtual reality was a major theme at CES 2016, and a number of consumer version HMDs are finally scheduled to hit shelves this year. IHS Technology projects that 7 million headsets will be sold by the end of 2016. With nearly 36 million PS4 consoles sold, Sony may have a leg up on some of its competitors.
"The company can also leverage two decades of experience working with game studios and already has more than 100 titles in development," notes Bloomberg. "While Hirai never directly mentioned VR, he alluded to Sony's desire to rise above the crowd."
"This is a choice at Sony to stand out from the crowd, not simply to fit in," he said. "This is a choice to make objects of sensation."
Topics:
4K
,
4K Blu-ray Players
,
Android
,
App
,
Bravia
,
CES 2016
,
Cloud
,
FDR-AX53
,
Game Console
,
Goggles
,
Handycam
,
HDR
,
IHS Technology
,
Kazuo Hirai
,
Mike Fasulo
,
MP3
,
Panasonic
,
PlayStation 4
,
PlayStation VR
,
PS4
,
Samsung
,
Sony
,
Sony Video Unlimited
,
SVOD
,
Television
,
Turntable
,
UHD TV
,
Ultra
,
Ultra HD
,
Video
,
Vinyl Records
,
Virtual Reality
,
YouTube