Nikon made two interesting announcements during CES in Las Vegas. First, the company unveiled the D5, its new flagship 4K DSLR, first teased back in November. The $6,500 camera, available in March, includes a new 153-point autofocus system and maximum ISO of 3,280,000. Perhaps a bigger surprise is Nikon's first action camera, the KeyMission 360, which shoots 360-degree video in 4K. Slightly larger and less of a cube than market leader GoPro Hero, the KeyMission 360 features lenses on front and back, is shockproof to 6.6 feet, waterproof to 100 feet, and touts electronic vibration reduction.
According to the press release, the KeyMission 360 is "the first of Nikon's lineup of action cameras," which "along with a variety of dedicated accessories, will officially be released in Spring 2016."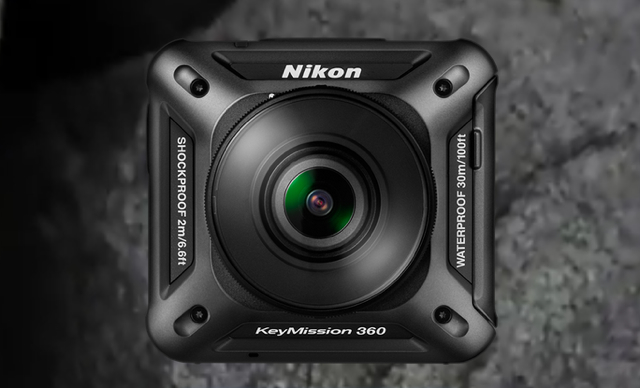 GoPro and Sony are the leading competitors in the action cam market, while other offerings from the likes of Garmin and TomTom focus on specific market segments by offering niche features such as GPS and accelerometers. However, none of the current action cameras shoot 360-degree video.
"Most high-quality VR is being shot by large camera rigs, and only a few smaller companies like Ricoh and 360fly have released consumer-grade 360-degree cameras," reports The Verge. "That all leaves a lot of room for competition, especially from big companies like Nikon."
The D5 is generating a lot of buzz. While the 20.8-megapixel CMOS sensor is only somewhat higher resolution than that of the Nikon D4S, the staggering ISO capabilities should provide photographers with new opportunities in dim light conditions.
CNET lists the following specs:
153 autofocus points with 55 selectable, 99-point cross sensor
20.8-megapixel FX-format (full frame)
Expeed 5 image processor from ISO 100 to 102,400
Sensitivity range extendable to ISO 50 to ISO 3,280,000
4K video capture as well as in-camera 4K time-lapse video
The company also unveiled the D500 in Vegas, its new top-of-the-line DX format camera. The $2,000 D500, also launching in March, will feature "the same 153-point autofocus system and Expeed 5 processor as the D5," notes CNET, "but with a smaller, DX-format (APS-C) sensor."
It will be the first to include Nikon's new version of SnapBridge wireless tech. "Using Bluetooth Low Energy connectivity, it will allow you to stay connected with your smartphone all the time, so you don't need to constantly reconnect with it to transfer from the camera."
Topics:
360 Degree
,
360fly
,
4K
,
Accelerometer
,
Action Cam
,
APS-C
,
Bluetooth Low Energy
,
Camera
,
CES 2016
,
D4S
,
D5
,
D500
,
DSLR
,
DX Format
,
Garmin
,
GoPro Hero
,
GPS
,
ISO
,
KeyMission 360
,
Las Vegas
,
Mirrorless
,
Nikon
,
Photography
,
Resolution
,
Ricoh
,
Sensor
,
Shockproof
,
Smartphone
,
SnapBridge
,
TomTom
,
Video
,
Virtual Reality
,
Waterproof
,
Wireless