Popular messaging app Snapchat has added a new way for its top creators to earn money on the platform, introducing mid-roll ads in public Stories. The feature is in U.S. beta testing now with an early set of Snap Stars, who will receive a share of the revenue generated from ads within their public Stories. "Stories lower the barrier to content creation and engagement, and we believe placing ads within a Snap Star's public Story will allow an easier path to financial success," Snap says of the program, which it plans to roll out commercially later this year.
Yahoo News says the revenue-sharing scenario marks "a first for the company" and the Snap Stars that are the focus of the beta campaign "are individuals with verified accounts that have a large number of followers." UPI describes Snap Stars as "'culturally relevant' public figures or creators with large followings on and off the platform" and says they are identified by a gold star on their profiles.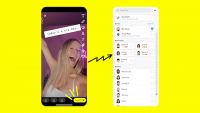 How much the Stars make from their Stories will be based on a formula that considers how often the post is viewed, and by how many people. According to Snap, the new mid-roll program demonstrates it is "committed to meaningfully rewarding our community for their creativity, and continuing to support creators as they grow their audience and build their business on Snapchat."
"Unintuitively, the introduction of mid-roll ads to some Stories follows a period in which Snap saw a dip in the format's popularity," Yahoo News writes, noting that Snap CEO Evan Spiegel said, "We are seeing people post fewer Stories to their friends, [and] view fewer Stories from their friends," during a fourth-quarter earnings call during which he emphasized a rise in "folks watching more premium content, watching more content in Spotlight."
Spotlight, Yahoo News explains, "is Snapchat's take on TikTok-like short-form videos. The company has invested significantly in the format, including announcing a commitment to spend $1 million per day to fund creators supporting the platform."
Conceding Snapchat competes with TikTok, Instagram and YouTube for consumers seeking video entertainment, Spiegel emphasized the social media platform has also distinguished itself with different areas of service, "like our map or our AR platform, where we see really strong engagement," UPI reported Spiegel said on his earnings call.
Throughout the past year, Snapchat has introduced several tools and programs designed to help creators earn, including Spotlight, in which the company has invested millions of dollars to reward those who produce top Spotlight Snaps.