COVID-19 drove consumers to online shopping, with eMarketer reporting that global e-commerce sales grew to $4.28 trillion in 2020, from $3.35 trillion the previous year. Many advertisers shifted spending to social media platforms, according to the Interactive Advertising Bureau, which said that such ad revenue grew 16.3 percent to $41.5 billion last year and represented almost one-third of all digital advertising. Now Snap, Facebook, Pinterest and TikTok have debuted ads that use augmented reality to market products.
Bloomberg reports that, "Snapchat is well positioned to work out the kinks of the augmented reality advertising boom," due to its expertise in ephemeral videos and AR filters. The company, which has 280 million daily active users, unveiled new AR services and features, including improving "the visibility of its Scan feature, which works with industry partners to allow people to use the app's camera to identify everyday objects and receive shopping recommendations for clothes."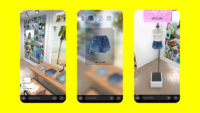 Snap chief business officer Jeremi Gorman said that, "while regular video advertisements still drive the majority of Snapchat's revenue, augmented reality is increasingly becoming part of its growth strategy." Snapchatters who use AR "lenses" daily jumped 40 percent last quarter.
"The combination of that immersive behavior as well as that convenience of augmented reality are really critical for marketers," she said. "This is AR's moment." American Eagle Outfitters relied on Snapchat to reach teens who could no longer go to the mall, launching a virtual pop-up holiday shop "which allowed users to browse from among 15 to 20 pieces at a time."
After tapping on a product to learn more about it and creating a wish list, the user was then "prompted to go to American Eagle's website to finalize the purchase." The pop-up store drove 50 million engagements and $2 million in sales. "It was really a light bulb that, wow, this is a new way to consider not just engaging with Gen Z but also shopping with Gen Z," said American Eagle chief marketing officer Craig Brommers."I think we'll see an acceleration of this trend in the months and years ahead."
Snap is not alone in using AR to reach out to consumers. Amazon debuted a new hair salon that uses AR to "allow customers to virtually try on hair colors and point their phones at products to learn more." Other brands that pushed immersive ad experiences included NYX Professional Makeup, Lexus and Gucci.
Bloomberg notes, "companies that utilize AR marketing are also abandoning older aspirational forms of advertising, based on Photoshopped models in idealized scenarios, in favor of encouraging customers to turn themselves into brand ambassadors."
Atomic Digital Design co-founder Antoine Vu said that AR "stimulates the user more than a regular content." "You become the actor of the content you are listening to or you're watching or learning [from]," he said. "You are kind of living the content."
The hurdles of AR adoption include the fact that it is most popular among the Gen Z cohort, which doesn't have much buying power. Some brands feel AR campaigns are "expensive and onerous to produce." Snap's Gorman noted that, "the onus is on us to ensure that advertisers are clear that this is no longer an incredibly complex thing to build."
Topics:
Advertising
,
Amazon
,
American Eagle
,
Antoine Vu
,
AR Filters
,
AR Lenses
,
Atomic Digital Design
,
Augmented Reality
,
COVID-19
,
Craig Brommers
,
E-Commerce
,
eMarketer
,
Facebook
,
Gen Z
,
Gucci
,
IAB
,
Jeremi Gorman
,
Lexus
,
NYX Professional Makeup
,
Online Shopping
,
Pinterest
,
Snap Inc.
,
Snapchat
,
Social Media
,
TikTok