Appearing at the NewFronts, Snap unveiled a new program in conjunction with celebrity greeting app Cameo as well as a new advertising initiative called Snap Promote and some new original programs. Snapchat creators will have the opportunity to team on short-form video ads with the 45,000-plus actors, athletes, musicians and influencers. The new Snap x Cameo Advertiser Program venture — an expansion of the Creator Marketplace Snap launched last year to increase monetization opportunities — was created by Cameo for Business and built by Snap.
Snap also announced an extension of content deals with the NFL, NBA and WNBA, saying 205 million people watched sports-related content on Snapchat in 2021. In an expansion of the agreement, the NFL and NBA will start collaborating with Snap on various Spotlight Challenges for the social app's TikTok competitor, Spotlight.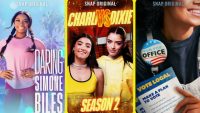 On the originals front, "Daring Simone Biles" will feature the gymnast "taking all-new risks trying things she's never done before, from beekeeping to DJing, to prove she is as fearless off the mat as she is on," writes TechCrunch, which also lists La'Ron Hines in "La'Ron in a Million" and Snap's first original Canadian series, "Reclaim(ed)," which reframes indigenous "cultural traditions and social issues from a Gen Z point of view."
And produced with Snap's policy team, "Run for Office" follows eight Gen Z and millennial political candidates as they seek office in various U.S. 2022 primary and general elections.
Advertising solution Snap Promote is "aimed at content partners on Discover, offering a way to expand beyond their organic reach with Snapchat's For You feed on the Stories page." The new ad product, an integration with Snap's Ads Manager, produced good results when tested with the NFL, says the company, indicating it drove an average of 7x as many Snapchatters to subscribe to NFL's profile on Stories.
The Snap x Cameo Advertiser Program features creative content that "looks like Snaps," Snap vice president of sales, Americas, Peter Naylor told Adweek, explaining, "that's the win here, it stops the scroll. Celebs and talent talk to our audience in a way that looks like Snaps."
Adweek reports that "beta partners include Kraft (for Philadelphia Cream Cheese and Velveeta), Mattress Firm and Molson Coors (for Vizzy Hard Seltzer and Topo Chico Hard Seltzer)."
Related:
TikTok Introduces Its First Ad Product to Offer a Revenue Share with Creators, TechCrunch, 5/4/22
Topics:
Advertising
,
Cameo
,
Cameo for Business
,
Creator Marketplace
,
Discover
,
Gen Z
,
Kraft
,
La'Ron Hines
,
Mattress Firm
,
Millennials
,
Molson Coors
,
Monetization
,
NBA
,
NewFronts
,
NFL
,
Original Programming
,
Peter Naylor
,
Run for Office
,
Simone Biles
,
Snap Inc.
,
Snap Promote
,
Snapchat
,
Snapchat Stories
,
Spotlight
,
TikTok
,
WNBA