As OTT becomes an increasingly compelling delivery platform, engineers born and bred on over-the-air, cable and satellite technologies are closely examining various schemes for deployment. On SMPTE 2015's second day, sessions focused on that topic, featuring panelists from Prime Focus Technologies, Comcast and USC Viterbi School of Engineering. The big take-away was that going over-the-top might take some planning but it's a worthwhile route to take, to engage viewers and provide more data for advertisers.
TV Technology described how Prime Focus Technologies executive Amer Saleem focused on OTT live sporting events, showing how metadata can be leveraged with PFT's system for producing content from both live and archived files simultaneously. The platform also enables remote creation, immediately transcodes for multiple platforms, and automatically publishes to OTT and social media platforms.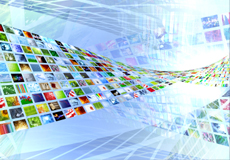 Comcast looked at creating a distinct workflow to extend the cable service to the Internet, said Comcast engineer Yassar Syed, but found it was too costly, choosing instead to integrate OTT content into its existing workflow. Comcast is using "adaptive transport streaming" which can be utilized for OTT channels with a packager, "a fairly lightweight application that can exist near transport or anywhere in the network."
The work at Comcast, said Syed, is part of standards development at the Society of Cable Telecommunications Engineers.
USC graduate student Arnav Mendiratta, who said he watches all his video content on the Internet, reported that OTT subscriptions were expected to double between 2014 and 2019, to $9 billion and that Internet advertising is predicted to exceed TV advertising by around 2017.
"The business management systems include the DRM system managing the licensing, and the electronic program guides," he said. Siemans' Steve Wong, chair of the sessions, described his company's OTT platform, "Swipe," that integrates an ad recommendation engine for individuals, and for general products and service categories.
Topics:
Advertiser
,
Advertising
,
Amer Saleem
,
Archive
,
Arnav Mendiratta
,
Cable TV
,
Comcast
,
Delivery
,
DRM
,
Engineer
,
EPG
,
Internet
,
Licensing
,
Live Sports
,
Live Video
,
Metadata
,
OTT
,
Prime Focus Technologies
,
Satellite TV
,
Siemens
,
SMPTE
,
SMPTE 2015
,
Social Media
,
Steve Wong
,
Streaming
,
Swipe
,
Television
,
USC
,
Viterbi School of Engineering
,
Yassar Syed