For over-the-air recording, Simple.tv offers plenty of perks for cord cutters. The set-top box will not only stream video content to desktops and mobile devices, but also other set-top streamers such as Apple TV, Chromecast and Roku. The device can run up to five streams at once and recorded TV shows can be downloaded for offline viewing. However, Simple.tv comes at a steep price: $200 for the box, $60 to $150 for the subscription, and at least $50 for the hard drive.
The second-generation Simple.tv gives cord cutters the flexibility to watch live TV from a variety of devices without the expensive cable and satellite contracts.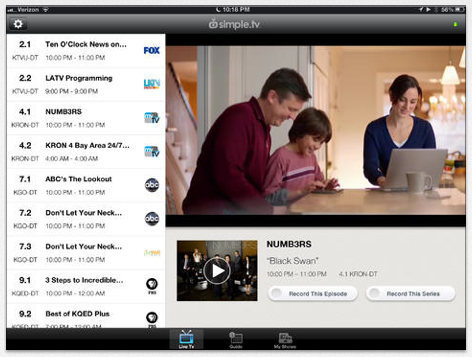 The set-top will pick up channels through an antenna or ClearQAM cable feed, which could be another expense for consumers. Then it stores the recorded shows on a hard drive and it streams the shows to other devices with an Ethernet connection to an Internet router. Simple.tv does not use a Wi-Fi connection to ensure high quality streaming.
The device is designed for streaming to smartphones and tablets through Android, iOS, Kindle Fire, and Windows Phone apps. According to Wired, "It's a polished, easy-to-use app, with an interactive program guide and simple series-recording options." The app also enables users to invite their friends and families to watch the user's recorded content. It does not come with a remote or any direct connection to a TV.
Simple.tv does have a few hurdles that may affect the movie viewing experience. Although people can download content to watch on the go, users must use a desktop PC to download the content. If users want to take their live-TV shows with them, they have to transfer the download from the computer to their smartphone or tablet.
Also, the interface makes it a little more time consuming to flip between channels and the fan is unusually loud during streaming sessions, notes the Wired review. However, compared to the Tablo DVR and the Channel Master DVR+, Simple.tv still has the best over-the-top recording and streaming.
Topics:
Android
,
Antenna
,
Apple TV
,
Cable
,
Channel
,
Channel Master DVR+
,
Chromecast
,
ClearQAM
,
Cord Cutter
,
DVR
,
Ethernet
,
Hard Drive
,
iOS
,
Kindle Fire
,
Mobile Device
,
OTT
,
Remote
,
Roku
,
Satellite
,
Shows
,
Simple.tv
,
Smartphone
,
Streaming
,
Tablet
,
Television
,
TV
,
Wi-Fi
,
Windows Phone