Samsung is releasing its 110-inch Ultra HD TV — first unveiled during last year's CES — in South Korea, China, parts of Europe and the Middle East, starting at about $142,000 for the basic edition. The news follows December's announcements that both Samsung and LG will demo 105-inch curved 4K TVs at next week's CES in Las Vegas. While pricing and availability has yet to be announced for the U.S. market, details are expected to be revealed at CES.
"At 2.6-meters by 1.8-meters there's more than enough room for well-heeled VIPs or employees of large companies and government agencies (the target market for the S9110) to catch some z's on it — and bring a few friends," suggests Engadget.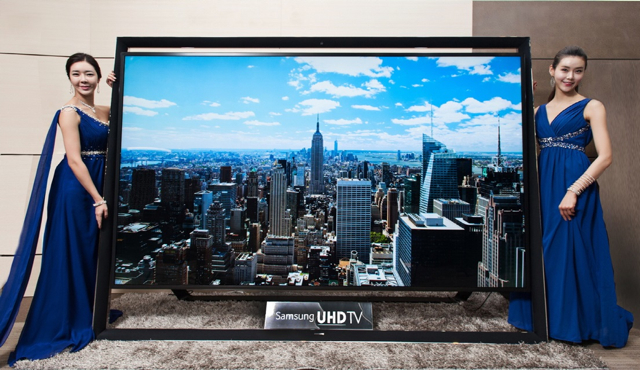 The set, which is custom order only for now, has already received 10 orders from the Middle East.
The move is the latest in a growing competition amongst manufacturers in the 4K TV space, despite cost and lack of content.
"Ultra HD TVs have become the leading new television technology and shipments are predicted to grow ten fold in 2014, with prices dropping rapidly," reports Digital Trends. "Meanwhile OLED displays, often touted as the future of HD, continue to tread water, evidenced most recently by news that Panasonic and Sony will be pulling out of a joint venture to develop cost-effective OLEDs for mass production."
"Ultra HD TVs have some advantages, including a resolution that is 4 times that of 1080p HD displays, but the TVs are plagued with both a lack of viable content, and content delivery challenges," adds DT. "OLED, on the other hand, uses organic light emitting diodes situated between two electrodes to display regular 1080p content with astonishing black levels, and vividly rich color saturation, dazzling the eye without needing to alter the content source."
Topics:
1080p
,
4K
,
Agency
,
CEA
,
CES
,
China
,
Color
,
Consumer
,
Cost
,
Curved
,
Display
,
Electronics
,
Europe
,
Government
,
HD
,
Joint Venture
,
Korea
,
Las Vegas
,
LG
,
Middle East
,
OLED
,
Order
,
Panasonic
,
Price
,
Production
,
Resolution
,
Rich
,
S9110
,
Samsung
,
Saturation
,
Show
,
Sony
,
Television
,
Trend
,
TV
,
UHD
,
Ultra HD
,
Vivid