After introducing its Samsung Cinema LED during CinemaCon in Las Vegas, Samsung announced that it is debuting the movie theater screen in Europe, with plans for more global markets including the U.S. in 2018. The Samsung Cinema LED screen's first commercial installation was in South Korea in July, with another in Bangkok, Thailand a few months later. The first European installation will be at Arena Cinemas in Zurich, Switzerland. The screen displays 33.6 x 17.8 feet and supports 4K resolution and high-dynamic range images.
VentureBeat reports that, "Samsung's LED is markedly smaller than a typical movie theater screen, which usually ranges from about 45 feet all the way up to 72 feet on IMAX." But, without a projector beam from the cinema's back wall, movie theaters will be much darker. Designers can also "re-think their approach" to building them.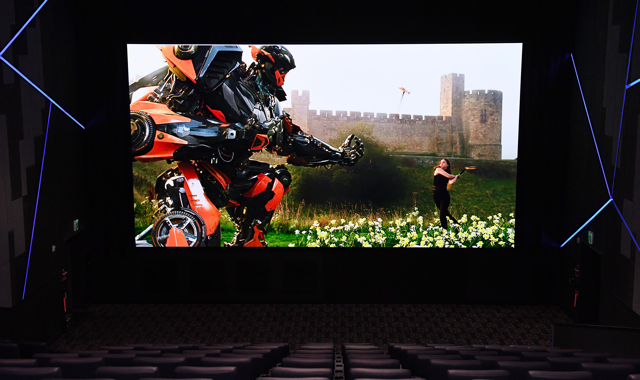 "Based on elimination of the projector beam and the high luminosity of Samsung Cinema LED screen, there are a host of new possibilities for interior design," said Arena Cinemas owner Edi Stöckli. "We are entirely removing the existing furnishings and implementing an innovative seating concept to provide audiences with a totally new kind of cinematic experience."
The new screen comes at a time when "global box office receipts hit a record $38.6 billion last year," with U.S. and Canada revenues reaching "$11.4 billion, a 2 percent increase from 2015." Even higher ticket prices haven't deterred viewers, with theater-going staying steady at about 1.3 billion.
In its news release, Samsung reveals that its Cinema LED screen "illuminates its vast display area through use of around 8.8 million LEDs, as well as immerses audiences in true-to-life audio utilizing technology developed in partnership between HARMAN Professional Solutions and Samsung Audio Lab."
The upcoming installation in Zurich is being built "in collaboration with the Arena Cinemas and Imaculix AG." By being able to create a truly pitch dark movie theater, it added, the screen will be "get rid of distracting dark gray stripes, long a pain point of traditional projectors." With LED technology, "luminosity of the wall will be 10 times brighter than with conventional projectors, achieving intensity of up to 146-foot lambert or 500nit."