According to reviewer Tim Moynihan writing for Wired, Google's $99 Nexus Player, a new streaming box running Android TV, offers "the closest a platform has come to a usable form of the Web on your TV — the parts of the Web curated by Google, at least." The Nexus Player provides a seamless way to navigate the Internet on your television with features such as voice command, YouTube streaming and the ability to cast practically anything from the Internet to your TV screen. 
In his review, Moynihan notes that the Nexus Player may lack the apps offered by competitors such as the Roku, and the extensive library of games available with the Amazon Fire TV. However, the Nexus is equipped with an impressive on-screen interface. Powered by the latest version of Android's Lollipop, the interface makes for a superior browsing experience.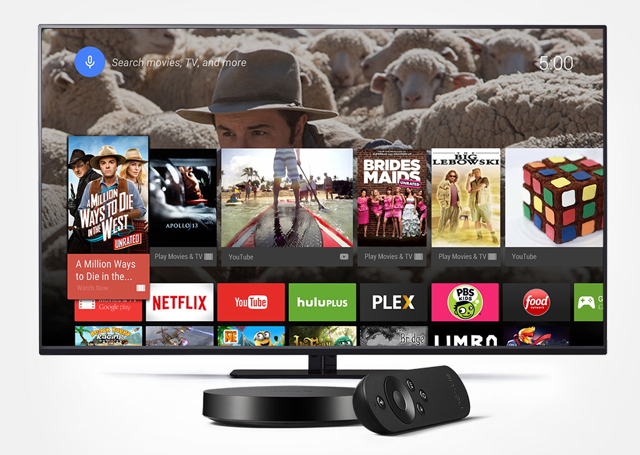 One of the device's current limitations is a shortage of apps that are available via Google Play. The Nexus Player can carry the usual suspects, including Netflix, Hulu Plus and Pandora in addition to pre-installed apps such as iHeartRadio, Songza, Crackle, Food Network and Bloomberg TV+. There are however, no apps for popular streaming services such as HBO Go, Spotify, and Showtime Anytime.
Although there are no native apps to carry out these services, the Nexus Player can also function as a Chromecast to provide an alternative to the apps themselves. Whether you are on your computer, phone or tablet, having already downloaded Chromecast ready apps or the Chrome browser, you can stream virtually anything from your second device onto your television screen.
With the use of your mobile device, you can overcome the limitations for services with unavailable Nexus apps such as MLB.TV, Watch ESPN and HBO Go. One cautionary observation, says Moynihan of his experience with the Chromecast feature, is that this alternative method of streaming is more likely to run into problems with dropouts and spottier video quality.
Additional content is available for purchase via Google Play on a pay-per-view service with access to plenty of blockbuster films and television favorites.
The on-screen interface is the real standout. "The interface is clean, sharp, and airy, and it's much more colorful and engaging than the darker menus on Roku and Amazon Fire TV," writes Moynihan. "It looks and feels more like a game console; on-screen selections fill the screen in a vibrant circle-wipe animation."
Moynihan predicts that once Google bulks up the inventory of content available for the Nexus Player, it will emerge as a potential favorite set-top box for cord cutters.
Topics:
Amazon Fire TV
,
Android Lollipop
,
Android TV
,
Apple TV
,
Apps
,
Chrome
,
Chromecast
,
Cord Cutters
,
Gaming
,
Google
,
Google Play
,
HBO GO
,
Hulu
,
Movies
,
Music
,
Netflix
,
Nexus Player
,
OTT
,
Pandora
,
Roku
,
Set-Top Box
,
Sports
,
Spotify
,
STB
,
Television
,
Tim Moynihan
,
TV Shows
,
Voice Command
,
YouTube