According to a recent study by SNL Kagan, mobile entertainment revenue is poised to match that of box office totals. Last year in the U.S., revenue generated by mobile games, videos, music and location-based services topped $9.14 billion (and has grown at a combined annual rate of 50 percent the last three years, notes the research). The 2014 total is getting close to the estimated $10.35 billion consumers spent on movie tickets in the U.S. Mobile games led the charge by far, earning more than $5.2 billion last year.
"The new era of touchscreen smartphones is a great fit for mobile games," suggest SNL Kagan. "The larger screens, touch capabilities, accelerometers and easy-to-navigate app stores made the pre-iPhone mobile game business of WAP decks and pixelated grey screens feel very distant. The games category has always dominated mobile entertainment… Last year, 57 percent of all mobile entertainment revenue was from game sales."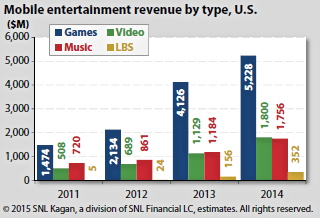 Gaming is followed by video for mobile devices, a segment that generated $1.8 billion in revenue, the majority of which came from advertising on popular video sites including YouTube.
"Music, meanwhile, is undergoing a transformation," Re/code explains. "Ringtones, once a billion-dollar business in the U.S., have been replaced by on-demand music streaming services such as Spotify and online radio offerings like Pandora. These streaming services report most of their users listen via mobile devices. Mobile music brought in about $1.76 billion last year in the U.S."
Location-based services such as augmented reality, location-aware dating apps, game-based location apps, and "check-in" social services represent the smallest segment by far.
Related:
The Wave of Free-to-Play Video Games is Surging, and Sony's Along for the Ride, Fortune, 1/13/15
Topics:
Advertising
,
Apps
,
Augmented Reality
,
Box Office
,
Google
,
iPhone
,
LBS
,
Location
,
Mobile
,
Mobile Games
,
Movies
,
Music
,
Pandora
,
Radio
,
Research
,
Ringtones
,
Smartphones
,
SNL Kagan
,
Social Media
,
Spotify
,
Streaming
,
Tablets
,
Theater
,
Touchscreen
,
Video
,
WAP
,
YouTube