Redbox, the nation's largest DVD renter, is uninstalling more than 500 kiosks, renegotiating contracts with studios for more favorable content rights, and optimizing its streaming service, Redbox Instant. These changes come as the company faces several challenges: revenue rose only three percent last year after double-digit increases in past years, good locations for kiosks are dwindling, and Redbox Instant only accounts for less than 1 percent of video-on-demand rentals.
Redbox is still a major player in DVD rentals, with 40 million customers at more than 40,000 DVD rental kiosks across the United States. Last year, the company brought in $1.97 billion in revenue, and Redbox is estimated to do about the same this year.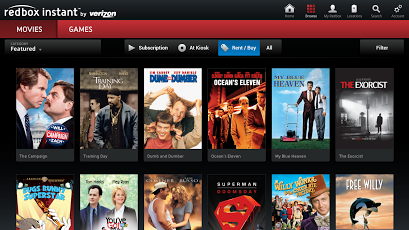 However, this year, the company is hoping that a better recommendation engine and an increase in Blu-ray rentals, which are more profitable, will help get more revenue from each customer.
"We're really focusing 2014 around continuing to refine our [customer relationship management] processes in order to drive more value out of each kiosk and more value out of each of our consumers," J. Scott Di Valerio, chief executive of Redbox's parent company Outerwall, said in The Wall Street Journal.
Also, Mark Horak, the new chief of Redbox since February, is renegotiating content contracts with movie studios, many of which expire this year. Redbox has some special deals to offer DVDs four weeks after launch day, or sometimes launch day itself, but it comes at a price. Redbox will pay movie studios at least $566 million this year.
Redbox will also continue to refine its struggling streaming service. Redbox Instant is a joint venture with Verizon that offers on-demand movies for five to six dollars, in addition to an eight dollar per month unlimited streaming fee that gives viewers access to older films and four DVD rentals from a kiosk. The number of subscribers is small because of the competition from other streaming services such as Netflix, but Redbox is not giving up on its digital venture just yet.
Topics:
7-Eleven
,
BD
,
Blu-ray
,
Business
,
Competition
,
Content
,
Contract
,
CRM
,
Distribution
,
DVD
,
Engine
,
Film
,
Horak
,
Instant
,
Journal
,
Kiosk
,
Mark Horak
,
Model
,
Movie
,
Netflix
,
Outerwall
,
Profit
,
Recommend
,
Recommendation
,
Redbox
,
Redbox Instant
,
Rental
,
Rental
,
Revenue
,
Rights
,
Sales
,
Stream
,
Streaming
,
Studio
,
Subscribe
,
Subscriber
,
Trend
,
Valerio
,
Verizon
,
Video
,
Video On Demand
,
VOD
,
Wall Street
,
Walmart