Software firm Youtoo Technologies announced that it has integrated its interactive video technology into "OK! TV," a nationally syndicated half-hour news and entertainment magazine show co-produced by American Media and Unconventional Partners that will debut on September 9. Integrating Youtoo's technology will enable the audience to directly interact with the show through online video and social and mobile apps.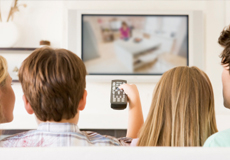 According to the press release: "The show will focus on pop culture, celebrity news, gossip and lifestyle, leveraging the content of OK! Magazine, as well as American Media's strong sister brands, RadarOnline.com, Shape, Men's Fitness, Star, Country Weekly, and Soap Opera Digest."
"'OK! TV' will utilize Youtoo Technologies to allow viewers to record video online and through a Facebook and mobile application in response to various questions asked by producers and the hosts," explains the release. "Producers will then publish this user-generated content to social networking sites, as well as mobile and Facebook apps and give viewers the chance to vote and comment in real time on approved videos created by others."
"As a show that covers entertainment, gossip and lifestyles of today's favorite stars, the new media landscape is all about participation and social has proven celebrities can rise from unexpected places — even their living rooms," said Michael Kelley, OK! TV's executive producer for multi-platforms.
Related News:
OK! TV Clears Top Three Markets, TVNewsCheck, 3/1/13
Topics:
Celebrity
,
Facebook
,
Gossip
,
Interactive
,
Magazine
,
Mobile
,
Networking
,
OK! TV
,
Online Video
,
Pop Culture
,
Shape
,
Soap Opera
,
Social
,
Social Media
,
Star
,
Syndicated
,
Syndication
,
Television
,
TV
,
UGC
,
Video
,
Youtoo
,
Youtoo Technologies