Companies such as General Electric, Ford and Mattel are increasingly turning to 3D printing, or additive manufacturing, in order to help deliver products to customers more quickly. Unlike traditional manufacturing techniques, that typically involve cutting or drilling from molds, 3D printing enables a more efficient means of modeling an object on a computer and then printing it with plastic, metal or composite materials.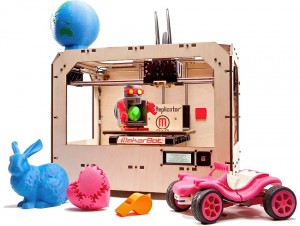 "It allows us to be far more productive, efficient and innovative in designs," said Scott Goodman, SVP of global product development at Mattel.
"While prices have been coming down, 3D printing materials — metals, plastics and composites — are more expensive than traditional manufacturing materials," reports The Wall Street Journal. "Gartner Inc. analyst Pete Basiliere said he expects the costs of such materials will fall as demand for 3D printing increases."
Ford Motor Co. is using the technology to prototype parts for test vehicles. "Ford saves an average of one month of production time to create a casting for a prototype cylinder head for its EcoBoost family of engines," notes WSJ.
In the future, Ford sees customers designing their own replacement parts. "Theoretically, a customer could log onto the Web, scan a bar code or print up an order, take it to a local 3D printer, and have the part in hours or minutes," explains the article.
GE's Aviation unit is using 3D printing to create fuel injectors and other jet engine components. "Mark Little, senior vice president and director of GE's global research group, said that building jet engine airflow castings by melting metal powders layer by layer can be more precise than making and cutting the parts from a ceramic mold," reports WSJ. "GE said this process is technically more efficient and should save the company money in the future."
Rather than sculpting prototypes of toys before launching production, "Mattel engineers use any of 30 3D printers to create parts of virtually every type of toy that it manufactures, including popular brands such as Barbie, Max Steel, Hot Wheels cars and Monster High dolls."
However, the company is hesitant to provide software files to the public, since Mattel would not be able to guarantee that toys printed by consumers would be safe for children.