White House Press Secretary Jay Carney described President Obama's newly proposed patent policy yesterday during the daily press briefing. The administration introduced a package of executive orders and recommended legislation that takes aim at patent trolls. Technology companies have expressed early support for measures that they hope will help curb the growing onslaught of lawsuits negatively affecting innovation.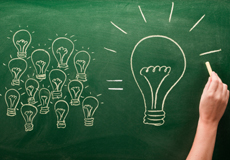 "Some observers cautioned that the measures won't do much to stop excess litigation without action by Congress and that they could have unintended consequences, such as making it harder for universities to protect their inventions," reports The Wall Street Journal. "Congress is already considering proposals that are similar to those made by the White House."
"The core of the initiative is the legislative proposals," explains Ed Reines, a patent lawyer at Weil, Gotshal & Manges. "The executive orders alone just aren't going to move the needle."
The Obama administration was reportedly swayed by vigorous lobbying. "We learned that some of the nation's most well-recognized companies have spent more money defending patent lawsuits than they have on R&D," said a senior administration official, noting that patent firms "are hurting economic growth and distracting greater innovators from innovating."
According to RPX Corp., more than 2,900 infringement lawsuits were filed against companies in a number of industries in 2012, nearly six times the number filed in 2006.
"Litigation costs range from a median of $650,000 for smaller cases to a median of $5 million a case when more than $25 million is at stake, according to the American Intellectual Property Law Association," notes WSJ.
While a number of companies have expressed optimism regarding the government's move, some individuals have expressed concern that legislative proposals could have unintended negative consequences.
"What happens to universities, or research shops, or individual inventors under these proposals?" asked Max Grant, an attorney at Latham & Watkins LLP in Washington, D.C.. "You're dealing with rights that have been granted by the Constitution, so these are questions that need answers."
"You don't want to punish the inventor who comes up with the cure for cancer but doesn't have the means or motivation to put it to use on his own," said Matthew McAndrews, a Chicago lawyer who represents patent-holding firms. "We need to encourage inventors to invent — and make sure they reap the benefits of their ingenuity."
Topics:
Congress
,
Constitution
,
Federal
,
Government
,
Grant
,
Innovation
,
Intellectual Property
,
IP
,
Law
,
Lawsuit
,
Legal
,
Legislation
,
Litigation
,
Lobbying
,
Lobbyist
,
Patent
,
President
,
President Obama
,
R&D
,
RPX
,
Trend
,
Troll
,
Washington
,
White House