Client-server media player system Plex has debuted beta DVR functionality, enabling users to record broadcast TV programs and stream them to other devices. Recorded content can be watched on TV/mobile devices with Plex apps for Apple TV, Android, iOS, Roku, Chromecast, game consoles and many smart TVs. For now, scheduling shows is only available via Plex's Web interface. The DVR feature also requires the use of a networked TV tuner to access broadcast TV signals; Plex has partnered first with tuner maker SiliconDust.
Variety notes that the DVR feature helps solve a key problem for Plex. Up until now, the startup has relied on DRM-free content, with users "either ripping their own DVDs or downloading media from more questionable parts of the Internet." Now, users have access to more content, "including TV shows from major broadcast networks, which can be legally recorded for personal use."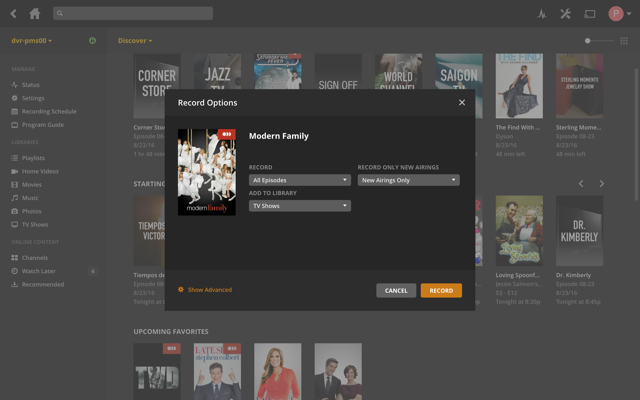 The new feature and resulting explosion of content "should help more clearly define Plex's value proposition." Plex's app is free, but the company has a premium tier, Plex Pass, "for about $5 a month, or $40 per year." The DVR will be exclusive to Plex Pass subscribers. In comparison, rivals such as TiVo "charge up to $15 per month for DVR service."
Plex, "connected to a broadcast TV antenna or an unencrypted basic cable feed," can schedule recordings, which are automatically added to the user's Plex library. It also offers "some basic recording management" and "taps into an existing library to suggest new content for recording as part of its discover feature."
With regard to discovery, Plex offers "a gallery of box covers that can be browsed by genre or channel" as well as the ability to search by title, actors, directors and so on.
Live broadcasts are not on tap at the moment, but Plex executive Jason Williams says the company "may add live TV viewing over time," and plans to "add support for additional TV tuners, and eventually even open up the recording APIs to third-party developers."
Topics:
Android
,
API
,
App
,
Apple TV
,
Beta
,
Broadcast
,
Cable TV
,
Chromecast
,
Digital TV Tuner
,
Discovery
,
DRM
,
DVD
,
DVR
,
Game Console
,
Gaming
,
Internet
,
iOS
,
Jason Williams
,
Live Broadcasting
,
Media Player
,
Mobile
,
Networks
,
Plex
,
Plex Pass
,
Roku
,
SiliconDust
,
Smart TV
,
Streaming
,
Subscription
,
Television
,
TiVo
,
TV Show
,
TV Tuner