In 2016, a Goldman Sachs report predicted that AR/VR sales could reach $182 billion by 2025. Now, New York City, home to at least seven virtual reality centers, is committing $6 million to a 15,000-square foot space in the Brooklyn Navy Yard that will serve as a "hub for virtual reality and augmented reality." The de Blasio administration says the hub will create more than 500 jobs. One of the existing centers, VR World, is equipped with a bar and dance music and lets users sky dive, rock climb or wield a samurai sword.
The New York Times, however, extensively quotes one VR expert who cautions that VR is still "very expensive, it's hard to set up, and there's a learning curve."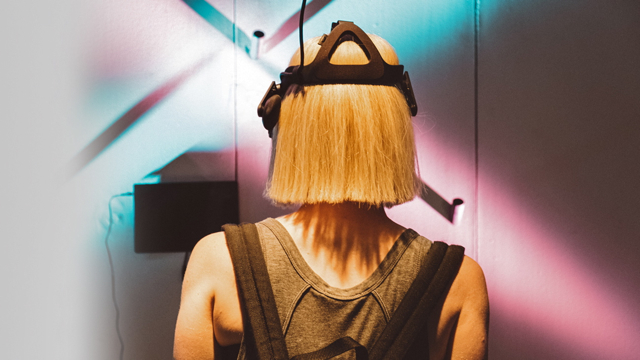 "It's due to the commercial failure of the VR headset that you're seeing these people use this moment to take the medium to the public," said Igal Nassima, founder of VR/AR creator Superbright. "It's like the early days of PCs, where we had Internet cafes."
Nassima points to the challenges of a VR experience his company recently created for the Museum of Sex. "You don't know what you're getting into; you have to have a certain amount of trust to go into this experience," he said. He also noted that VR is "not very good for social settings," and that the user is "completely isolated."
That's why VR World, where a two-hour pass costs $39, and its ilk create "a livelier atmosphere" that allow users waiting for their time to don a headset to imbibe alcohol and dance to 90s tunes in a space enhanced by "trippy lighting."
Another such space, Hubneo VR Lab, on Suffolk Street on the Lower East Side, "cultivates a more underground vibe." There, users can enjoy speeding on a European racetrack, and "the steering wheel feels heavy with the friction of the tires on the asphalt, and the machines are sensitive to what's happening on the track."
Each virtual racing machine costs about $15,000 and the VR experience costs $25 or $80 for four. Hubneo chief executive/founder Ilya Polokhin reports that its guests come from "the community of gamers" rather than "random foot traffic."
Multiplayer VR experiences are brand new, but may also play a role in future VR experience centers.