HEVC Advance, a new patent group, has warned that it will demand royalties for the HEVC video codec that allows 4K streaming within the same bandwidth now used for 1080p streaming. HEVC, which also can provide 1080p streaming in half the bandwidth, has been seen as the best solution for cost-effective 4K, and the current threat could torpedo its adoption. Currently, HEVC-supported smart TVs have enabled Netflix's 4K services on those receivers; some smartphones also use HEVC.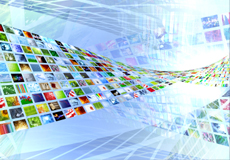 Up until now, H.264 has been the video compression standard for online streaming video, and MPEG LA is the consortium representing relevant patent holders, including Apple, Samsung and Fujitsu.
Encoders and decoders are charged fees, but free services such as YouTube are not charged any content-based royalties, making H.264 an attractive video streaming solution. Royalties are also capped, notes Ars Technica. Netflix, for example, pays a top fee of $6.5 million a year for licenses.
Although MPEG LA promised a similar agreement for H.265, HEVC Advance now says it will set a royalty of 0.5 percent of revenue from any broadcaster that uses the codec, reports Ars. "HEVC Advance wants to ditch the free streaming that MPEG LA offered, and charge a royalty for it, even when the software and hardware being used to create the HEVC video are already licensed with the royalty paid."
According to the HEVC Advance website, the initial members of the patent pool include GE, Technicolor, Dolby, Philips and Mitsubishi Electric; licensing will be available by end of Q3 2015.
Now that the licensing model used for H.264 is in jeopardy, so is the use of HEVC as a rising standard for 4K. Ars reports that Google and Mozilla are "working on competing codecs with the goal of providing a viable alternative to HEVC," but notes that existing install base of HEVC-enabled gear will make any competing codec an uphill battle.
Topics:
1080p
,
4K
,
Apple
,
Broadcaster
,
Codec
,
Dolby
,
Fujitsu
,
GE
,
General Electric
,
Google
,
H.264
,
H.265
,
HEVC
,
HEVC Advance
,
Licensing
,
Mitsubishi
,
Mitsubishi Electric
,
Mozilla
,
MPEG LA
,
Netflix
,
Patent
,
Philips
,
Royalties
,
Samsung
,
Smart TV
,
Streaming Video
,
Technicolor
,
Television
,
Video
,
Video Compression
,
YouTube