The television industry is experiencing an unusually long cancellation-free streak for its current season, as networks struggle to adapt to a changing landscape with more viewing alternatives than ever before. Network execs are being extra cautious not to drop a series that may have potential as consumers turn beyond the major broadcasters to cable, on demand, and online streaming alternatives. In addition, overall TV ratings are down and there are more shows than ever before (more than a record-setting 400 are expected by the end of the year across broadcast, cable and online services).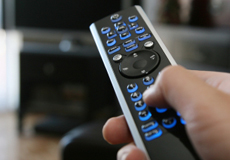 "In the old days you knew by the third or fourth week if a show truly had traction," said Mark Pedowitz, president of the CW Television Network. "You're now looking at seven or eight episodes before you get a determination. You'll know more come some time by December and January."
"Executives want to give an audience time to find a show," reports The New York Times. "And the networks also have access to a sea of data and statistics packed with delayed viewing numbers where, if one looks closely enough, it's possible to find flickering signs of promise."
"It's going to take a little longer to evaluate the metrics," suggested Glenn Geller, president of CBS Entertainment. "The overnights are just not the complete picture anymore, and every viewer counts."
While advertisers are still primarily concerned with viewers that watch an episode within the first three days of its airing, networks are holding on to struggling shows that could have a possible turnaround (as was the case with eventual hits such as "Seinfeld" and "The Office"). Instead, networks are trimming the number of episodes for series with low ratings.
Some new shows —  Fox's "Scream Queens" for example — may not be generating big overnight numbers, but are performing well with delayed viewing. More than in previous years, this trend may factor into a network's decision regarding the future of a series, especially if it envisions VOD and Netflix options down the road.
Topics:
ABC
,
Advertisers
,
Advertising
,
Broadcast TV
,
Cable
,
Cancellation
,
CBS
,
Commercials
,
Data
,
FOX
,
Glenn Geller
,
Internet
,
Live TV
,
Mark Pedowitz
,
Metrics
,
NBC
,
Netflix
,
Networks
,
On Demand
,
Online Streaming
,
Original Programming
,
Overnights
,
Ratings
,
Scream Queens
,
Seinfeld
,
Streaming
,
Television
,
The CW
,
The Office
,
TV Season
,
TV Series
,
TV Shows
,
Video
,
VOD