Netflix has always wanted Wall Street to judge it based on revenue and global operating-profit margins rather than subscription growth. But the company's Q2 report shows just how unpredictable those results can be. Netflix added 5.2 million subscribers, much more than the 3.2 million it predicted, for a total of 104 million global subscribers. But its global operating profit margin was down 4.6 percent from 9.7 percent in Q1, while revenue skyrocketed 32 percent to $2.79 billion.
The Wall Street Journal reports that the company chief executive Reed Hastings, on a video chat with an analyst, credited "the dividends of its big content investments" as reaping "positive returns on that for the business as a whole." At the same time, Netflix owes $15.7 billion in "current and future costs for content acquisition, licensing and production," up from $13.2 billion in Q2 2016.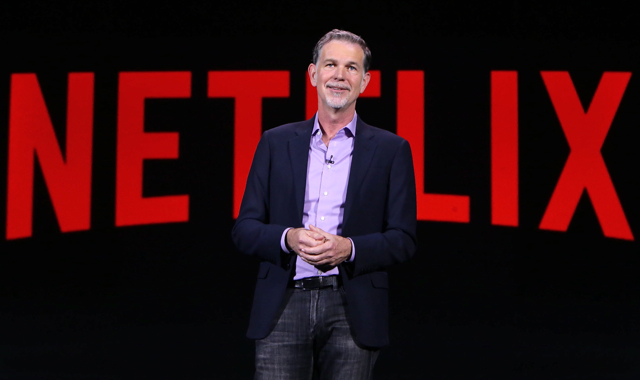 The company reports that it "expects to keep up strong momentum in the third quarter, projecting 4.4 million subscriber additions, but warned that it has over-forecast in the past, and that some subscriber growth could have been pulled forward into the second quarter."
Competition is also ramping up, as Netflix "is battling for wallet-share" with Amazon, Hulu, Sling TV and YouTube TV, as well as "dozens of local rivals" in the international space. With service in more than 190 countries, Netflix says "a majority of its subscribers are now international, and that it expects the international unit to post its first-ever annual profit this year."
Variety reports that, "Netflix's senior executives downplayed the impact of recently cancelled original series," pointing out that "its renewal rate is far higher than traditional TV networks." Chief content officer Ted Sarandos noted that 93 percent of Netflix's original series have been renewed whereas "TV networks cancel one-third of their shows in the first season on the air."
"The more shows we have, the more likely in absolute numbers that you'll see cancellations, of course," he said.
Netflix chief financial officer David Wells said that, "Netflix looks at viewing trends quarterly to determine which originals to keep investing in" and likes to "try to wrap the narratives" of shows not renewed, such as "Bloodline." Also not returning are Baz Luhrmann's "The Get Down" and the Wachowski siblings' "Sense8."
Hastings "cited YouTube as a benchmark for viewing activity, saying Netflix still has a ways to go before it catches up to Google's video service." Netflix earned 91 nominations in the 2017 Emmy Awards, up from 54 in 2016, and second only to HBO, which had 111 nominations.
Topics:
Amazon
,
Baz Luhrmann
,
Bloodline
,
David Wells
,
Emmy Awards
,
Google
,
HBO
,
Hulu
,
Licensing
,
Netflix
,
Original Content
,
Production
,
Reed Hastings
,
Sense8
,
Sling TV
,
Streaming
,
Subscribers
,
Subscription
,
Ted Sarandos
,
Television
,
The Get Down
,
TV Shows
,
Video
,
Wachowski
,
Wall Street
,
YouTube
,
YouTube TV