As Netflix pivots to add a lower-priced ad-supported tier, it is taking on its biggest challenge since shifting to streaming from its DVD-by-mail model, observers say, noting that the move to integrate advertising puts Netflix, once a disruptor, in the position of playing catch-up with rivals that have already adapted their business models to include less expensive, ad-supported options for consumers. Netflix hasn't disclosed pricing for its ad-supported tier, but it will presumably be below the $9.99 fee for its least expensive ad-free tier. Reports are beginning to surface, however, as to ad rates, and they're not cheap.
Netflix co-CEO Reed Hastings "has set lofty financial ambitions" for the company's ad business, according to The Wall Street Journal. "He and other company executives have told investors and ad industry executives privately in recent months that Netflix will eventually be able to charge advertisers about $80 for every 1,000 views of an ad by helping them target specific audience segments," which "would put Netflix among the most expensive destinations for ads, alongside top NFL television programming."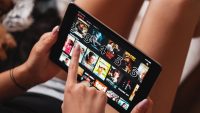 Last month, Netflix announced it had selected Microsoft as its ad sales agent. "One of Netflix's goals was to secure a big 'minimum guarantee' — a promise that it would get a large influx of ad revenue to limit its financial risk," writes WSJ.
Included among the executives Netflix has approached to manage advertising efforts are two who work at Comcast, WSJ says, naming in a related article Comcast chief growth officer Pooja Midha among those who were approached.
"After years of looking invincible, Netflix has suffered two consecutive quarters of subscriber losses in the face of tougher competition, and its stock has lost roughly two-thirds of its value this year," WSJ writes, detailing how advertising and a crackdown on password-sharing are part of its turn-around strategy.
"They're shifting gears and fast," said Neuberger Berman Group associate portfolio manager Raman Gambhir, whose investments include Netflix.
"Disney and Netflix are betting big on introducing ads to their flagship service," writes IndieWire. "They've got an edge with broad reach and premium content, but in a soft market they need to give advertisers something better than what they have now — namely, returns on investment and the ability to precisely target users. Programmatic advertising exec Curt Larson said that's exactly what the streamers could offer."
Related:
Netflix Aims to Launch Cheaper, Ad-Supported Plan in Early 2023, Variety, 7/19/22
Netflix, Microsoft to Team Up for Streaming Ad Sales, Variety, 7/13/22
Netflix Has Confirmed When Ads Will Arrive on the Platform, TechRadar, 7/17/22
Topics:
Ad Rates
,
Ad-Supported
,
Advertising
,
Cable
,
Curt Larson
,
Disney
,
DVD
,
Microsoft
,
Movies
,
Netflix
,
Neuberger Berman
,
NFL
,
Password Sharing
,
Passwords
,
Pooja Midha
,
Premium Content
,
Programmatic Advertising
,
Raman Gambhir
,
Reed Hastings
,
Stocks
,
Streaming
,
Subscribers
,
Subscription
,
TV Shows
,
Video