Ticketmaster and TikTok have teamed up for an in-app event discovery feature that will let the short-form video app share live event information and direct users to Ticketmaster's site for purchase. Influencers can now link relevant Ticketmaster events to their videos. Initially, the new feature will only be available to select creators, with plans to scale more broadly over time. Acts that have signed on to use the ticketing mini app at launch include Demi Lovato, OneRepublic, Backstreet Boys, Usher and more. WWE is also participating. The pact follows a similar agreement Ticketmaster made with Snapchat in February.
"The feature matches users with events they might be interested in based on their preferences," writes TechCrunch, explaining that if users find something they're interested in, they can see if their friends are attending the same event. Once an event has been selected, users are routed to Ticketmaster's website to make the purchase.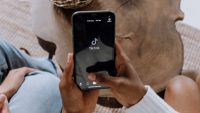 TikTok's increased involvement in live events is part of its discovery mission, TechCrunch says, noting "Ticketmaster's partnerships with TikTok and Snapchat show that it's looking to find ways to reach younger users and get them interested in events they may have otherwise not known about."
Meanwhile, there are reports the popular social app may be exploring plans to launch its own music streaming service. According to an application filed by ByteDance with the U.S. Patent and Trademark Office, "TikTok Music" is in development, reports Engadget, noting the service "would allow folks to 'purchase, play, share, download music, songs, albums, lyrics… live stream audio and video… edit and upload photographs as the cover of playlists… [and] comment on music, songs and albums.'"
ByteDance already operates the music streaming app Resso, available only in India, Brazil and Indonesia. The new trademark application "was first submitted in Australia and then filed in the U.S. on May 9," Engadget wrote in a separate story.
Meanwhile, Snapchat's "Ticketmatcher Mini" is being introduced in 21 countries.
Topics:
Australia
,
Backstreet Boys
,
Brazil
,
ByteDance
,
Demi Lovato
,
Discovery
,
Events
,
India
,
Indonesia
,
Influencer
,
Live Event
,
Music
,
OneRepublic
,
Resso
,
Snapchat
,
Social Media
,
Sports
,
Streaming
,
Ticketmaster
,
Ticketmatcher Mini
,
TikTok
,
TikTok Music
,
United States
,
Usher
,
Video
,
WWE