Netflix is "relieved" over a loss of nearly one million subscribers, according to The New York Times, which proclaims "disaster has been averted" in time for Q2 reporting. Despite the largest subscriber losses in the company's 25-year history, defections fell short of the two million Netflix had projected in its Q1 guidance. Netflix, now standing at about 220.7 million subscribers globally, told investors it hopes during Q3 to reengage as many as one million of the lost, a bullish outlook considering austerity measures that included layoffs during the first half of the year.
The company proclaimed itself "in a position of strength" given more than $30 billion in revenue and $6 billion in operating profit for a Q2 that "was better-than-expected on membership growth," according to a letter to shareholders.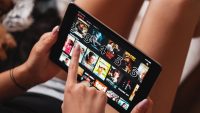 "When Netflix announced that it lost 200,000 subscribers in the first quarter and expected to lose many more in the second, it suggested to many in Hollywood and on Wall Street that the halcyon days of endless growth in the streaming business had come to an end," writes The New York Times, adding that "the company still had a rough three months, but its revenue did grow 9 percent to $7.9 billion, a number that would have been higher had the value of the dollar not pushed down the value of currencies around the globe."
During the July 19 earnings call, Netflix president and co-CEO Reed Hastings stressed strong results across content, merchandising and marketing, specifically noting the major success of "Stranger Things." Hastings said Netflix remains bullish on the future of streaming. "It's definitely the end of linear TV over the next 5 to 10 years," he suggested.
Meanwhile, The Wall Street Journal shares a rosy outlook for the company's advertiser-supported tier expansion. WSJ reports Netflix "hasn't said much about the advertising-supported service it is developing," (with support from Microsoft), "but advertisers are already plotting how to take advantage of it."
"Peloton Interactive Inc. hopes the streaming giant, which is known for its sophisticated show-recommendation engine, will offer precision targeting so it can reach the audience most likely to buy fitness equipment," notes WSJ. "Hyundai Motor Co. wants to have its cars appear in some Netflix shows, while other marketers are mostly looking for the chance to reach younger viewers who have abandoned traditional television."