At last week's NAB show in Las Vegas, numerous manufacturers offered tools related to streaming on various OTT platforms and social media. Telestream, which has provided file-based video transcoding and high-quality media exchange over IP networks since the late 1990s, has doubled down on such products for broadcasters. Although broadcasters have availed themselves of Telestream tools for some time, the upcoming ATSC 3.0 TV standard adds urgency to broadcasters' need to adapt to the technologies behind IP networks and OTT platforms.
Just prior to NAB 2017, Telestream stated its "particular focus" for the show was live video streaming, which it demonstrated with Lightspeed Live Stream and Lightspeed Live Capture applications.
For streaming live to Facebook, Telestream offers the social platform as a destination for its new Wirecast Gear turnkey system. That allows broadcasters to create and stream "high production quality value" video to their Facebook timelines. Its Social Media Solution lets broadcasters post video, text and images to numerous social media platforms.
Company chief executive Dan Castles pointed out that the streaming market is expected to grow 18 percent between 2015 and 2021. There are also three billion 3G/4G cellular network subscriptions capable of receiving video. In terms of content, four billion hours of video are watched each month on YouTube and 30 billion pieces of content are watched on Facebook.
"There's an escalating need for live video streaming and rising demand for collaborative digital file-based workflows," said Castles. "The streaming video ecosystem is live or on-demand — and we work with both."
Castles presented two case studies of broadcasters using Telestream tools. At TYT Network, post production technical director Jonny Greenwald reported that his company receives 200 million unique views per month and six billion total views on all platforms.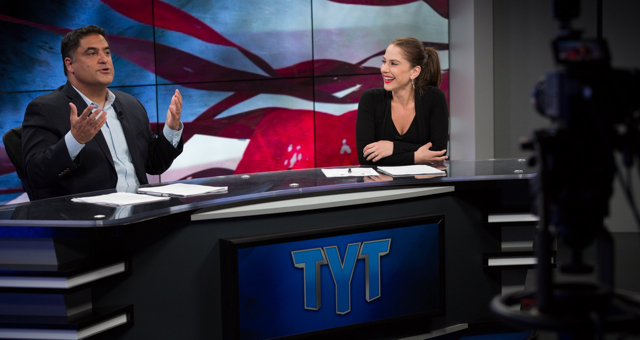 "Growth has created challenges," said Greenwald. "We have to create clips branded for each platform, with a different format for each of them. With Telestream's Vantage, we now have a cohesive automated workflow that doesn't require any manual oversight or intervention. It also gives us operational overhead savings and frees up editors."
At WGBH, the Boston PBS station that produces one-third of the public broadcaster's content, senior director of production technology Tim Mangini reported that the station executives talked about how they were going to use Facebook Live, ultimately creating four flavors, from rough-and-ready pieces shot with a smartphone or DSLR to the Livestream Mevo camera for live switching, Telestream's Wirecast Studio in a Box and, at the highest level, a studio production.
"We ask producers, what's the vibe and what's your tolerance for risk," said Mangini. "That dictates your equipment."
WGBH director of post production Chris Fournelle notes that Telestream's Vantage has played a part in ingest, transcoding and delivery for the series "Frontline." "It's our Swiss Army knife," he said. "I'm excited about the automation we can do. Vantage and other Telestream tools are allowing us to put the money in content and not tech. This will come even more into play when 4K and HDR arrive."
Topics:
4K
,
ATSC 3.0
,
Boston
,
Broadcast
,
Chris Fournelle
,
Dan Castles
,
Facebook Live
,
Frontline
,
HDR
,
IP Networks
,
Jonny Greenwald
,
Lightspeed Live Capture
,
Lightspeed Live Stream
,
Livestream Mevo
,
NAB 2017
,
On Demand
,
OTT
,
PBS
,
Social Media
,
Streaming
,
Telestream
,
Television
,
Tim Mangini
,
Transcoding
,
TYT Network
,
Video
,
WGBH
,
Wirecast Gear
,
YouTube