During a product unveiling in New York last week, Microsoft introduced new devices including a Surface Book laptop, the company's latest Surface Pro tablet, big-screen Lumia smartphones that plug into displays for PC capabilities, and a $249 wearable fitness band. The press event also showcased Microsoft's HoloLens augmented reality headset. While a focus on CE devices represents a shift for the software giant, hardware serves an integral role in a new corporate strategy that revolves around the Windows 10 operating system, designed to run on a variety of different devices.
"The products are a sign of how much Microsoft has changed in the last few years as it drifts further from its roots as a software maker to a company that, in some cases, believes it has to invest in hardware to stay competitive," suggests The New York Times.
"Apple and Google, with their mobile technologies, have displaced Microsoft as the companies with the biggest followings among developers," adds NYT. Microsoft hopes its new products will help inspire others to develop new apps and compelling devices based on Windows 10.
The Surface Book (pictured above), a potential competitor to Apple's MacBook Pro, starts at $1,499 and features a 13.5-inch PixelSense touchscreen and detachable keyboard so the display can double as a tablet. Wired describes it as "the most exciting Windows laptop in years."
Meanwhile, Microsoft's fourth generation tablet, the Surface Pro 4, starts at $899 and touts a 12.3-inch screen, slightly larger than that of its predecessor. The Surface Book hybrid and Surface Pro 4 tablet will ship by October 26.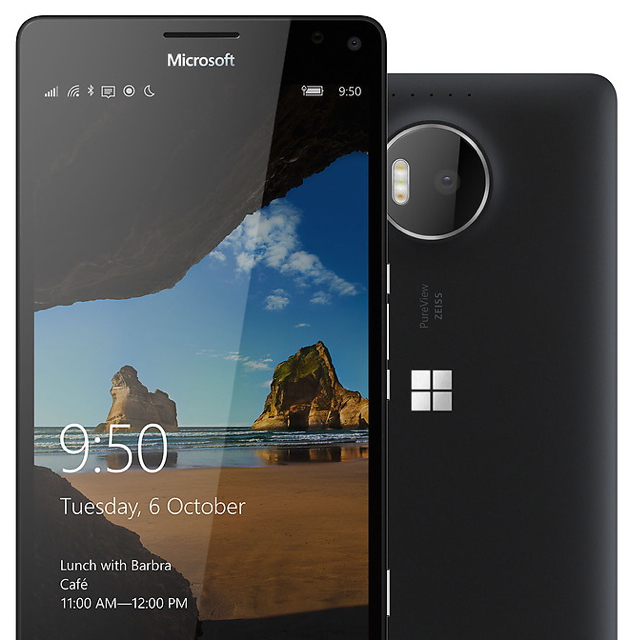 Microsoft showed the $549 Lumia 950 and the $649 950 XL smartphones with 5.2-inch and 5.7-inch displays, respectively. The Lumia 950 includes the Qualcomm Snapdragon 808 hexa-core processor, while the 950 XL (on right) features the Snapdragon 810 octa-core processor. Both phones tout a powerful 20MP camera and are "coming soon."
"The company is trying to differentiate the phones by making them function more like traditional PCs," notes NYT. "Using a capability in Windows 10 called Continuum, the new phones can project their screens onto large displays when they are plugged in."
The company also unveiled the second iteration of its Microsoft Band, an update to the earlier version which TechCrunch explains "wasn't a smartwatch" and "wasn't a fitness tracker. It was a $199 device with a tiny display that could show you your notifications and tiny apps. The best part is that it worked with Windows Phone, as well as Android and iOS phones."
The new $249 Band includes tougher gorilla glass, a barometer, and new health-tracking tools. It also tracks elevation changes in real time.
For its HoloLens headset, Microsoft demonstrated a new mixed-reality game, codenamed "Project Xray," that lets users operate a simulated blaster projected onto their hands for shooting robots on the attack (check out the 8-minute demo on YouTube). The company explained that a $3,000 developer version of HoloLens would be available by Q1 2016.
Microsoft's mission to spark hardware growth comes after shipments of PCs dropped nearly 11 percent last quarter, the 14th consecutive quarter of decline. The trend helps explain why so many leading manufacturers are looking to redefine themselves in an increasingly mobile world.
"Hewlett-Packard is splitting into two entities," NYT reports. "Lenovo has branched out into smartphones by acquiring Motorola Mobility. And, in the latest sign of the changes roiling the business, Dell, the world's third-largest PC company by shipments, is in advanced talks to acquire EMC, the big data-storage company."
Topics:
Apple
,
Augmented Reality
,
Continuum
,
Dell
,
EMC
,
Fitness Band
,
Google
,
Gorilla Glass
,
Headset
,
Hewlett-Packard
,
HoloLens
,
iOS
,
Keyboard
,
Laptop
,
Lenovo
,
Lumia
,
Lumia 950
,
Lumia 950 XL
,
MacBook Pro
,
Microsoft
,
Microsoft Band
,
Mixed Reality
,
Mobile
,
Motorola Mobility
,
Project Xray
,
Smartphone
,
Smartwatch
,
Surface Book
,
Surface Pro 4
,
Tablet
,
Windows 10
,
Windows Phone