MasterCard plans to test a new program this fall that will experiment with using facial scans to approve online purchases. Consumers will photograph themselves with their smartphones at checkout, an approach MasterCard believes will be easier than remembering passwords. The company also believes it will help combat fraud. While SecureCode was used in 3 billion transactions last year, passwords can still be forgotten, intercepted or stolen. As a result, a number of companies have been turning to biometrics as a solution.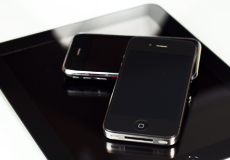 Apple Pay customers, for example, have been using the iPhone fingerprint scanner with success. MasterCard's small pilot program, involving only 500 customers, will use fingerprints as well as facial scans. The company hopes to launch the program publicly following the pilot test.
"To pull this off, MasterCard said it has partnered with every smartphone maker, including Apple, BlackBerry, Google, Microsoft and Samsung," reports CNNMoney. "The credit card company is still finalizing deals with two major banks, so it wasn't ready to say whose customers will get this first."
Those who opt for facial recognition over fingerprinting will simply stare at their phone and blink once. The blinking is intended to prevent thieves from trying to simply hold up a photo of someone to trick the system.
"MasterCard said it doesn't actually get a picture of your finger or face," CNNMoney explains. "All fingerprint scans will create a code that stays on the device. The facial recognition scan will map out your face, convert it to 1s and 0s and transmit that over the Internet to MasterCard."
Some cybersecurity experts are concerned that MasterCard runs a risk by storing such personal information on their servers. They suggest that it would be safer for individuals to store data on their phones. However, others have faith that MasterCard can adequately protect its customers' privacy.
"They're storing an algorithm, not a picture of you," said Phillip Dunkelberger of Nok Nok Labs, a company that creates authentication tech. "And I'm sure they're doing the appropriate stuff to guard it."
Topics:
Algorithm
,
Apple
,
Apple Pay
,
Authentication
,
BlackBerry
,
Credit Card
,
Cybersecurity
,
Data
,
Facial Recognition
,
Facial Scan
,
Fingerprint
,
Google
,
Internet
,
iPhone
,
Mastercard
,
Microsoft
,
Mobile
,
Nok Nok Labs
,
Online Purchases
,
Password
,
Phillip Dunkelberger
,
Photo
,
Privacy
,
Retail
,
Samsung
,
Scanner
,
Security
,
Shopping
,
Smartphone
,
Transaction