Music-identification app Shazam has landed investments from the industry's biggest record labels, including Warner Music Group, Universal Music Group and Sony Music Entertainment. London-based Shazam's most recent valuation was $500 million. Its value for the labels involves its potential as a marketing partner. Not only does the app enable users to identify music playing on the radio or TV, but it lets them share a song's name via social media, download it from iTunes, or stream it via services such as Spotify.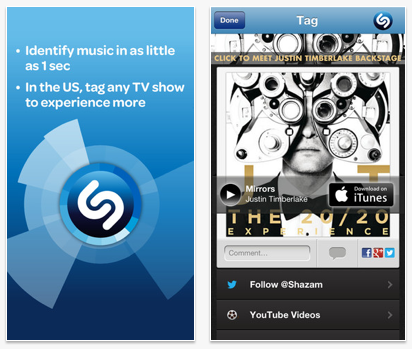 "Warner Music Group owner Access Industries – the holding company of billionaire Len Blavatnik – along with Vivendi's Universal Music Group and Sony Music Entertainment, are each taking $3 million stakes in Shazam," reports The Wall Street Journal. "All of the shares were purchased from a single third-party investor, according to people familiar with the transactions."
"Warner, Universal and Sony all own a stake in Spotify, while Universal owns 14 percent of Beats Electronics, the headphone maker and music-streaming service that Apple is in talks to buy for $3.2 billion. Blavatnik's Access Industries is also an investor in the Beats subsidiary Beats Music, as well as the French subscription music service Deezer. Shazam declined to comment on a Bloomberg report last month that it is in talks to license its song-ID technology to Apple to use in its next iOS update."
In related news, Shazam announced a partnership with NCM Media Networks this week.
"NCM runs the FirstLook pre-show segments that run in Regal, AMC, and Cinemark theaters, interspersing ads with behind-the-scenes videos promoting movies and TV Shows," reports TechCrunch. "Starting this weekend, the companies say that moviegoers will be able to take out their phones and Shazam the FirstLook content, bringing up more information (and in some cases purchase options) about the companies and products being featured."
Shazam says it presently has more than 450 million users worldwide. The company said last year that it was preparing for an IPO.
Related:
Screenvision, SoundHound Connect Mobile Users to Cinema Ads, ETCentric, 5/15/14
Topics:
Access
,
Advertising
,
AMC
,
App
,
Apple
,
Artist
,
Band
,
Beats
,
Blavatnik
,
Bloomberg
,
Cinema
,
Cinemark
,
Deezer
,
Electronics
,
France
,
Headphone
,
ID
,
Identify
,
Initial
,
Invest
,
iOS
,
IPO
,
iTunes
,
London
,
Marketing
,
Mobile
,
Music
,
Musician
,
NCM
,
Network
,
Phone
,
Public
,
Radio
,
Recognition
,
Regal
,
Screen
,
Shazam
,
Smartphone
,
Social
,
Song
,
Sony
,
Spotify
,
Store
,
Stream
,
Streaming
,
Subscribe
,
Subscription
,
Television
,
Theater
,
Track
,
TV
,
UK
,
Universal
,
Video
,
Vivendi
,
Warner