Madison Avenue continues to scale in the metaverse, which is experiencing a land-grab for the best storefronts as brands like Gap and Nike unveil digital-only versions of their goods competing against — and sometimes collaborating with — digital-first brands like sneaker maker RTFKT and fashion house Fabrikant. Mobile game destination The Sandbox has already sold more than 70 percent of its "land" to businesses including cryptocurrency exchange Binance and video-game maker Atari. Even traditionalists like NASCAR and JPMorgan Chase are pitching virtual tents. The bank has signed a lease in Decentraland, a 3D online world.
For the moment, the JPMorgan Chase virtual outpost is a marketing play, offering mood only, no money services, virtual or otherwise. But Decentraland visitors can pop into the lounge, watch videos and peruse a library of books.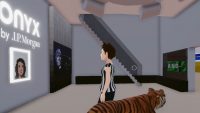 Umar Farooq, chief executive of JPMorgan's Onyx unit, founded in 2020 to focus on blockchain products and services, told The Wall Street Journal that corporate clients have indicated it's "a great way for us to use our marketing resources." JPMorgan has predicted that eventually the metaverse will generate $1 trillion in annual revenue worldwide.
Whether the metaverse will smoothly scale or experience vertiginous swings of the crypto market remains to be seen. Virtual worlds and goods seem more tangible in that they can be seen, experienced and enjoyed. L'Oreal has 17 virtual goods trademarks, according to Glossy.
The global market for in-game goods and services — known as microtransactions — was estimated at $34.59 billion in 2021, according to a report by Research and Markets. That's a drop in the bucket compared to the crypto industry, which lost $900 billion in the first half of 2022, its market cap falling below $1 trillion for the first time since January 2021. By contrast, microtransactions have been steadily increasing.
Some games have their own microeconomies and startups are trying to set up their own virtual cities. "These organizations are selling virtual real estate to early adopters — companies and individuals — who don't mind buying land in a place where more is constantly being added," reports WSJ, adding, "buyers are becoming landlords, renting out their online properties to companies looking to set up stores, host special events or just put up billboards to advertise to passersby. These landlords are also offering virtual properties to consumers to build digital houses to store their NFTs and hang out with friends."
"We are going through the discovery process of understanding what is meaningful to our customers and what experiences we can drive through the metaverse that will enhance and augment these experiences," Gap head of product management Avery Worthing-Jones told WSJ. The company sold out an edition of $2 to $11 digital hoodies in January.
"It's too early to understand whether the metaverse is going to be a big thing or whether it is just another buzzword and marketing exercise," Merlin Entertainment CTO Lee Cowie told ZDNet. "I suspect it's going to have enough momentum behind it that it will become a thing that we will want to be interested in."
Topics:
Atari
,
Avery Worthing-Jones
,
Binance
,
Blockchain
,
Cryptocurrency
,
Decentraland
,
Digital Goods
,
Fabrikant
,
Fashion
,
Gaming
,
Gap
,
JPMorgan Chase
,
Lee Cowie
,
L'Oreal
,
Madison Avenue
,
Merlin Entertainment
,
Metaverse
,
NASCAR
,
NFT
,
Nike
,
Onyx
,
Research and Markets
,
RTFKT
,
The Sandbox
,
Umar Farooq
,
Video Game
,
Virtual Reality
,
Virtual World