With Apple expected to announce an AR/VR headset by year's end, Meta Platforms CEO Mark Zuckerberg is wasting no time trying to saturate the market with Meta Quest 2 games and gear, while priming the pump for the Meta Quest Pro, which some say may debut as early as this fall. June has seen a summer sale of up to 40 percent off on 60 Quest 2 games. And last week, Zuckerberg mounted a shock and awe offensive, previewing several early prototypes, including the Holocake 2 — Meta's lightest, thinnest VR headset, which plays PC virtual reality games.
In what is no doubt an effort to raise his company's sagging stock price by revealing some of what Meta is underwriting with its $10 billion VR investment in 2021, Zuckerberg showcased an impressive lineup of R&D projects during a video conference for the press.
In addition to Holocake 2, Zuckerberg previewed Mirror Lake, a ski-goggle type headset. Mirror Lake combines different Meta headset technologies into a single, next-generation display. Meta Reality Labs chief scientist Michael Abrash, who joined Zuckerberg onscreen, said if Mirror Lake pans out, "it will be a game changer for the VR visual experience."
The duo also discussed a prototype called Butterscotch that reportedly achieves resolutions so high users can read the bottom line of a virtual eye chart. That would solve a big part of the challenge the Facebook founder faces in achieving his metaverse goal — access to virtual worlds that look and feel intuitive and real.
"The human visual system is very complex, and it's deeply integrated. So just seeing a realistic looking image isn't enough to make you feel like you're really there," Zuckerberg told participants on the video call. Butterscotch is apparently still too bulky to fit the bill, but it's a work in progress and has image resolution "about two and a half times better than the Quest 2," according to CNET, which embeds a highlights reel.
Other development projects Zuckerberg showcased include the Half Dome, developed by the Oculus Rift team with the objective of "getting the size and weight down and expanding the field of view." While still hefty, the Half Dome project uses electronic varifocal based on liquid crystal lenses, which takes care of some of the natural blurring issues associated with focusing the human eye.
A big issue, Zuckerberg explained, "is that the vividness of screens that we have now compared to what your eye sees in the physical world is off by an order of magnitude or more."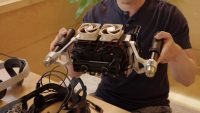 "Meta is developing next-generation virtual reality displays designed to provide a realistic enough experience for users to feel like they're in the same room with other virtual people," was CNBC's take-away from the presentation. Another prototype, Starburst, "is a massive beast requiring the user to hold the headset up to their face using two handles and two large fans to keep it cool," according to Yahoo Finance.
CNBC said "Monday's demonstration did little to calm" investors shell-shocked over Meta's Reality Labs research and development spending, since "Meta's stock closed down more than 4 percent on Tuesday."