LG is showcasing its new Signature 4K OLED W-series this week in Las Vegas with the tagline "Picture on Wall" (as a follow-up to its previous "Picture on Glass"). That's because at 2.57-millimeters thin, the TVs are best mounted completely flat against a wall (the 'W' stands for 'wallpaper'). To address the lack of ports with such a super-thin design, the W-series features companion soundbars connected via a thin cable. The Dolby Atmos capable soundbars are outfitted with four HDMI ports, three USB connections and an optical audio port. The two models are also exceptionally light; the 65-inch version weighs 18 pounds, and the 77-inch model is 27 pounds.
Pricing and availability have yet to be announced, but as a point of reference, last year's G-series starts at $4,999.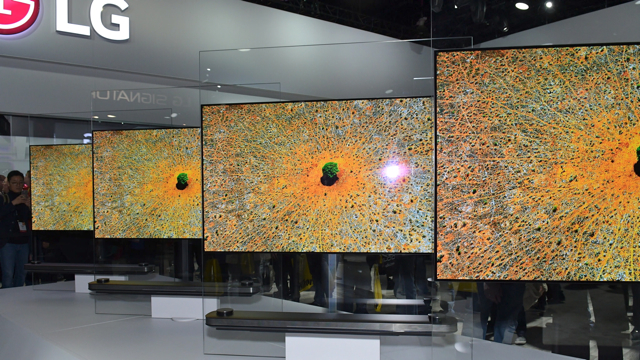 "All of LG's new OLED 4K TVs — which also includes the B7, E7 and G7 sets — will feature slightly improved panels which offer better color accuracy (they now cover 99 percent of the DCI-P3 gamut), 25 percent higher peak brightness and improved anti-reflectivity," reports Engadget. "They also support 'Active HDR,' which plugs in metadata to help with high-dynamic range scenes, and they'll also be able to support Technicolor's 'Advanced HDR' technology in the future."
In its annual Best of CES Awards, Engadget declared LG's W-series this year's Best TV Product (featuring a "design that makes it seem more like a window into another world than any TV we've seen before … LG once again remains a step ahead of the competition"), in addition to its Best of the Best Award ("It's rare that a product truly blows us away at CES, but LG's W-series OLED TV did just that").
"WebOS continues to be the underlying software platform on these TVs and, now at version 3.5 on LG TVs, is mostly unchanged from 2016," explains The Verge. "LG says it has 'partnered' with Netflix, Amazon Video, and Vudu this year, likely just to give 4K and HDR content more prominent placement in the interface."
Topics:
4K
,
Active HDR
,
Advanced HDR
,
Amazon Video
,
CES 2017
,
DCI-P3
,
Dolby Atmos
,
HDMI
,
HDR
,
HDR10
,
LG
,
LG B7
,
LG E7
,
LG G7
,
LG Signature W-Series
,
LG W7
,
Movies
,
Netflix
,
OLED
,
Optical Audio
,
Soundbars
,
Technicolor
,
Television
,
TV Shows
,
UHD TV
,
Ultra HD
,
USB
,
Video
,
Vudu
,
webOS