The original Kodak Pixpro 360 and Pixpro SP360 4K cameras were largely well received, but garnered some criticism regarding image quality. To address the limitations of a single lens and sensor system, the upgraded Kodak-branded 360-degree camera now features a more efficient dual-lens setup. The new Kodak Pixpro Orbit360 4K VR was unveiled at Photokina last fall by JK Imaging Ltd., the company licensing Kodak's name, while pricing and availability details were revealed this week at CES. The new 360-degree camera will run $499 when it hits shelves later during Q1 2017.
"Using two lenses and two 20-megapixel sensors, the new Pixpro captures 360-degree video and stills," reports Digital Trends. "While the 4K term is loosely applied as the eight megapixel 1:1 aspect ratio and not the standard 4K, the double set of lenses and sensors should bring a dramatic quality increase over the previous single-lens model."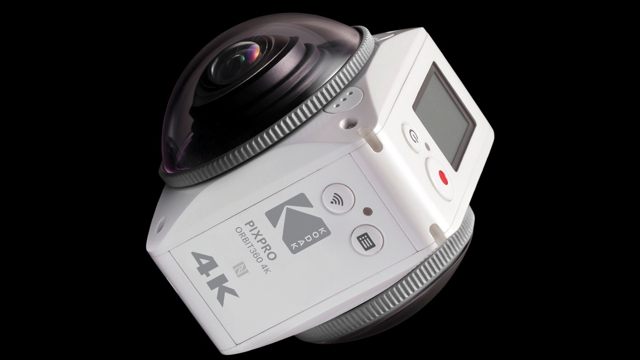 The Orbit360 camera can be controlled remotely via a smartphone and the Pixpro app (the camera features Wi-Fi for connecting and sharing footage) or via a separate Bluetooth-enabled remote control.
According to the press release, the Pixpro "camera models are YouTube compatible for 360-degree interactive videos and Facebook compatible for 360-degree photos and videos."
The Pixpro was first introduced two years ago and is becoming popular with consumers. "The Kodak 360 line faces some competition from single-lens cameras like 360Fly," notes DT, "as well as dual-lens setups such as the Samsung Gear 360 and Nikon Keymission 360."
Related:
Kodak Swears It's Not Giving Up on That Digital Super 8 Camera, Gizmodo, 1/6/17
Ektachrome 100 Is Coming Back From the Dead Thanks to Kodak, Digital Trends, 1/5/17
Topics:
360 Video
,
360fly
,
4K
,
App
,
Bluetooth
,
Camera
,
CES 2017
,
Digital Super 8
,
Dual Lens
,
Ektachrome 100
,
Facebook
,
JK Imaging
,
Kodak
,
Kodak Pixpro 360
,
Nikon Keymission 360
,
Photo
,
Photokina
,
Pixpro Orbit360 4K VR
,
Pixpro SP360 4K
,
Remote Control
,
Samsung Gear 360
,
Sensor
,
Smartphone
,
Video
,
Virtual Reality
,
Wi-Fi
,
YouTube