Members of the U.S. Senate and House of Representatives sent a letter to the Federal Trade Commission urging it to investigate how the mobile advertising industry tracks consumers without their knowledge via digital display ads. The covert practice, known as "bidstream" data, enables the collection of sensitive information about consumers that is then packaged and sold by data brokers. Meanwhile, Google released "Ads Transparency Spotlight," a Chrome extension to inform consumers about how advertisers are targeting them.
The Wall Street Journal reports that Anindya Datta, chief executive of data broker Mobilewalla, said that, for example, "it uses mobile location to identify Americans who visited places of worship, to build advertising profiles that can be targeted at religious Americans."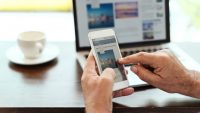 Senator Ron Wyden (D-Oregon) organized the letter and was joined by fellow senators Bill Cassidy (R-Louisiana), Sherrod Brown (D-Ohio), Elizabeth Warren (D-Massachusetts), Ed Markey (D-Massachusetts) and Maria Cantwell (D-Washington) as well as House members Anny Eshoo (D-California), Zoe Lofgren (D-California), Yvette Clarke (D-New York) and Ro Khanna (D-California).
"Few Americans realize that companies are siphoning off and storing that 'bidstream' data to compile exhaustive dossiers about them," said their letter. "These dossiers include their web browsing, location, and other data, which are then sold by data brokers to hedge funds, political campaigns, and even to the government without court orders. Unregulated data brokers have access to bidstream data and are using it in outrageous ways that violate Americans' privacy."
FCC commissioner Geoffrey Starks "also issued a joint statement with Clarke in support of an FTC investigation." Mobilewalla responded that it helps "businesses get more out of their AI investments by making their predictive modeling more effective."
Real-time bidding (RTB) takes place automatically by computers "in mere milliseconds as a website loads or an app opens … [and] data gets passed between the ad exchange offering the ad space and the bidders trying to win the action, which can contain sensitive information about consumers." Most ad exchanges "allow even the losers of the auction to keep the data on the consumer, which can then be sold to data brokers who collect and sell such information."
IQM cofounder/chief operating officer Kris Qiu noted that the digital ad industry is "dependent on bidstream data." "Without the bidstream data, you would not be able to know where the users are and you would not be able to place the ad," he said. Interactive Advertising Bureau, "a leading trade association representing the digital advertising world," also condemned the practice and "called for reform."
Engadget reports that Google's Ads Transparency Spotlight "shows the number of ads loading on a page, the advertisers and ad tech companies present, and the personal data (demographics, re-marketing, interests, location, etc.) that is being used to serve the ads."
Google stated that the new (alpha) extension is "part of our ongoing initiative to give people more visibility into the data used to personalize ads and more control over that data." It only discloses information about "Google-served ads that have implemented Google's Ad Disclosure Schema,' and not other third-party ads."
Topics:
Ads Transparency Spotlight
,
Advertising
,
Anindya Datta
,
Anny Eshoo
,
Bidstream
,
Bill Cassidy
,
Chrome
,
Congress
,
Data Broker
,
Display Ads
,
Ed Markey
,
Elizabeth Warren
,
FCC
,
FTC
,
Geoffrey Starks
,
Google
,
IAB
,
IQM
,
Kris Qiu
,
Maria Cantwell
,
Mobile
,
Mobilewalla
,
Privacy
,
Real-Time Bidding
,
Ro Khanna
,
Ron Wyden
,
Sherrod Brown
,
Yvette Clarke
,
Zoe Lofgren