In discussing CES 2016 trends, Consumer Technology Association CTO Shawn DuBravac identified "ambient sensing," or the ability of sensors to monitor and measure data in continuous time. On the stage at CES, he showcased a product that exemplifies some of the innovation possible with ambient sensing. Kapture Audio, a wearable platform and app, enables users to capture 60-seconds of audio and share it with others. DuBravac interviewed co-founder Mike Sarow about the device and its capabilities.
The rationale behind Kapture Audio, says Sarow, was his and fellow co-founder Matthew Dooley's annoyance that people paid more attention to their smartphones than the conversation in front of them.
"What people around you are saying is very important, and paying attention is the way to engage," he says. "If you don't listen, our product is useless."
The hardware device continually monitors audio and when the user pushes the button, it records the previous 60 seconds. "The best way to think of this is to compare it to the photos you take," says Sarow. "You see a lot of things every day but only take photos of the things that strike you. We put this technology in your hands to do that with audio."
Kapture Audio came up with the 60-second time limit by starting with 5 minutes and working downward until they found the sweet spot. "Asking someone to consume five minutes is asking a lot," notes Sarow.
The three use cases the creators have identified are parents with young children; creatives such as journalists, writers, comedians who are always listening; and — a nascent market — the blind and visually impaired.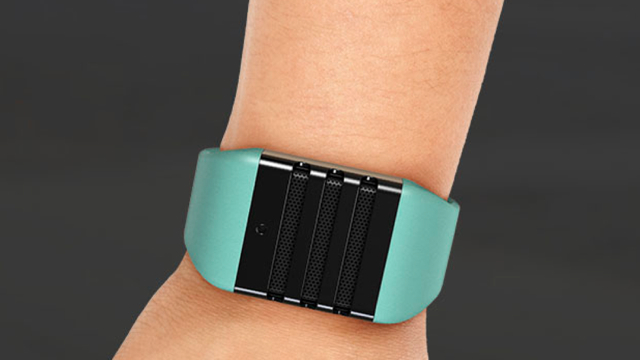 The company is also looking into different form factors. The wearable can be unclipped from the wristband and attached to a purse or laptop strap, for example. "We're not a wearable tech company," says Sarow. "We're working on different tools, whether it's interfaces on smartwatches, the car or other connected devices."
He notes that "every smartphone has a camera but not everyone has the ability to record backwards audio… If I'm killing a smartphone in four hours, that's not ideal either, which is why we went the hardware route."
"Our key target markets are people who love the idea of audio capture," he notes. "So looking for other accessories isn't a priority now."
Topics:
Ambient Sensing
,
App
,
Audio
,
Audio Recording
,
Cars
,
CES 2016
,
Comedians
,
Communication
,
CTA
,
Data
,
Journalists
,
Kapture Audio
,
Laptop
,
Las Vegas
,
Matthew Dooley
,
Mike Sarow
,
Mobile
,
Parenting
,
Performers
,
Photographs
,
Recording
,
Sensors
,
Shawn DuBravac
,
Smartphones
,
Smartwatch
,
Visually Impaired
,
Wearable
,
Wristband
,
Writers