According to Ad Age, the Intel Media TV Service has all the components that consumers want. The interface is beautiful, the remote is simple and the cloud-based DVR doesn't require anyone to hit "record." Algorithms are built in to learn what users like and recommend new content, it syncs easily with social networks, there is effortless co-viewing with distant friends, it works on mobile devices and more.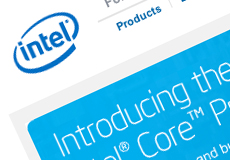 "About a year ago, Intel established Intel Media to build an 'over-the-top' TV service, joining streaming-video players such as Netflix and Hulu. Its service, however, will be the first to deliver a full array of cable TV channels over the Internet," explains Ad Age.
"I'm impressed because Intel makes chips; no one expected them to come out with a product like this," said Michael Bologna, head of advanced TV at Group M, who has spent time with the product.
"Silicon Valley has the best interface designers in the world, but until now efforts to apply that expertise to TV have led to false starts like Google TV and products that don't go near far enough, such as Apple TV and Xbox Live," suggests the article. "The difference between this and all previous efforts to reinvent cable TV is that Intel has taken the time and spent the money to become a cable operator itself."
Who is this product tailored for? "As CEO Erik Huggers told attendees at the AllThingsD media conference in February, this isn't a service for cord-cutters or anyone who wants a cut-rate cable package. Rather, it's a better cable experience that is designed for (and will be marketed to) the kind of young, affluent and connected consumer who would like a TV service that works as well as their tablet or iPhone," reports Ad Age.